Head passes Pearland past Cinco Ranch 56-28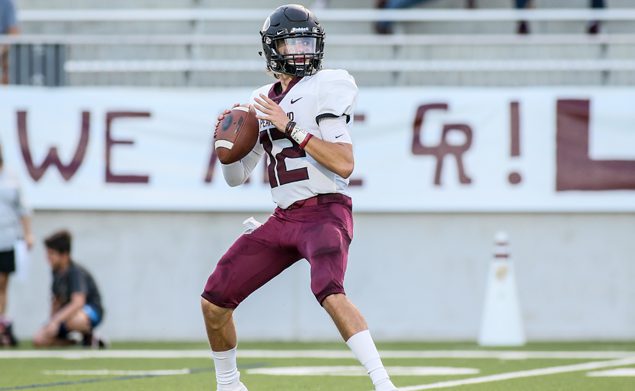 When quarterback J.D. Head moved to Pearland back in the summer from Oklahoma, the junior signal-caller brought with him a resume that had him destined to become the new field general for the Oilers after he led Jones High School to the Class 3A state semifinals last year. Jones finished at 13-1 in 2017 and Head passed for over 3,000 yards and 44 touchdowns his sophomore season.
After only three games with the Oilers, Head has led Pearland to a 3-0 non-district mark and now the district season will begin on Friday, September 28 when Pearland will host Alief Taylor at 7:00 p.m. at The Rig. The Oilers have an open date on Friday, September 21.
Pearland beat Cinco Ranch in convincing fashion 56-28, but Head has already put his name in the Pearland record books as he threw for 357 yards and six touchdowns which broke former All-State quarterback Trey Anderson's single-game record of 314 yards that he set when the Oilers beat Katy 38-35 in the 2010 Class 5A Region III Div. I finals. Pearland ended up winning the 5A Div. I state title that season.
The six touchdowns by Head also set a new standard beating the previous mark of four touchdown passes in a single-game by a couple of former Pearland quarterbacks. Head now has 748 yards passing and 8 TDs in three games.
One thing for sure — the Oilers were a different team against Cinco Ranch than they were the previous week against Spring Branch Memorial when they had to rally in the fourth quarter to pull out a 21-17 win after trailing 17-6 for the first three quarters.
Pearland head coach Ricky Tullos rallied his coaching staff and players to get on the same page against the Cougars and it certainly proved to be the difference.
"That was a very good football team," Tullos said. "I was proud of our kids. We didn't play as well in last week's first half (against Memorial), but we had a good second half. I felt like last week we didn't handle adversity really well.
"Tonight they hit us right in the face right from the start and our kids understood and knew what to do and how to handle adversity, then bouncing back and executing the rest of the game."
The Cougars opened the game with a 63-yard catch by Justin Hull and an 9-yard touchdown run by Cam Harper for a 7-0 lead with 8:21 left in the first quarter.
But Pearland answered on their next possession as Head launched a missile to William Hiers who beat his defender for a sensational 58-yard scoring bomb to tie up the game 7-7 after the PAT by Caleb Mendez.
The Oilers moved ahead 14-7 after forcing the Cougars to punt when Head found Clayton Broeder streaking down the field for a 48-yard scoring strike with 3:43 left in the first period to complete a 8-play, 84-yard scoring drive.
Pearland's defense continued to control the Cougars offense forcing another punt to begin their next possession on their own 25.
The Oilers used an 11-play, 75-yard march down the field to score again as Jaelin Benefield scored through a huge hole created by the offensive line giving Pearland a 21-7 advantage with 10:21 left in the second quarter.
But Cinco Ranch wasn't going to give up that easily and the Cougars tied up the game on a 5-yard run by Harper and a 5-yard run by Justin Hull with 4:07 left in the second period.
Before anyone could catch their breath, Pearland took the ensuing kickoff to their own 40 and then on the first play Benefield found a crease through the middle of the Cinco Ranch defense to race untouched 60-yards for a 28-21 lead 47 second later.
That would be as close as the Cougars would get as the Oilers took a 35-21 lead into the dressing room at halftime after Head hit Austin Landry with a 7-yard scoring toss with only :19 seconds left before intermission.
The late first half touchdown was set up thanks to an interception by Devin Linton.
The second half belonged to the Oilers as Head added to his record-setting night with three more touchdown passes to Landry for 44-yards, Jaden Piece for 40-yards, and Malcom Linton for 13 yards.
The Cougars scored once in the second half making the final score 56-28.
Pearland improves to 3-0 on the season while Cinco Ranch drops to 0-3.
Head was 21-of-30 passing for 357 yards and 6 TDs while also using his legs to pick up some key yardage to keep drives alive. The signal-caller had 7 carries for 66 yards giving him 423 yards of total offense. He also threw touchdown passes to five different receivers.
Benefield led the ground attack with 20 carries for 116 yards and two TDs. Landon Bradley had seven carries for 79 yards.
Malcom Linton had seven catches for 86 yards and one score. Landry had four grabs for 81 yards and two TDs. Hiers had two catches for 59 yards and one touchdown. Broeder had two receptions for 53 yards and one TD. Piece had four grabs for 46 yards and one score.
The Oilers had 31 first downs and 632 total yards while Cinco Ranch had 15 first downs and 352 total yards with only 77 yards on the ground.
"We've got to continue to work to get better," Tullos said. "We focus on ourselves a lot. We don't talk about our opponent too much. But it's a very tough district, very good opponents. It's going to be a lot of fun."