Mendez making a difference in the lives of others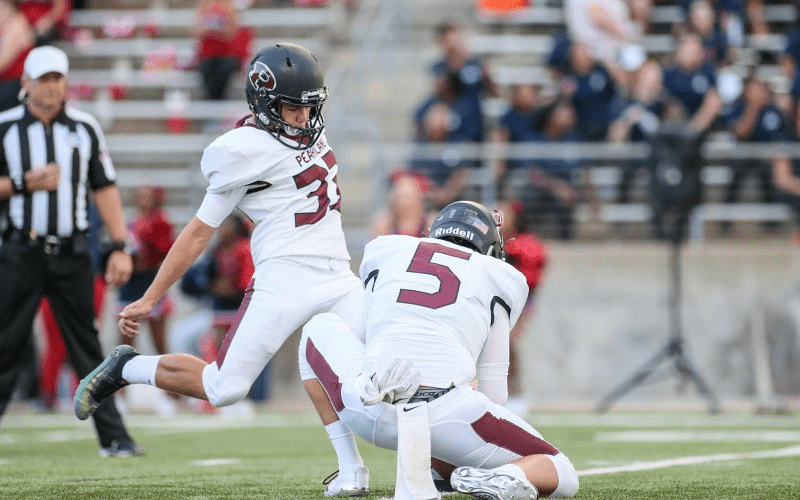 Most sophomores in high school are trying to discover who they are as they relate to their place in the educational and social setting of where they spend a lot of their time.
However, most haven't met young Caleb Mendez who set his mind back in the summer of 2018 to be the placekicker for the Pearland Oilers. Dedicated to working on his craft everyday with former Pearland kicker Robbie Hersh (2008), Mendez pushed his efforts to accomplish his dream of being the go-to guy in the kicking department for the Oilers and new head coach Ricky Tullos.
The Oilers finished the regular season with a perfect 10-0 mark while capturing the District 23-6A crown and advancing to the post-season for the 19th straight season. Mendez had a part in helping the team achieve an undefeated season by kicking 46 extra points and two field goals for a total of 52 points.
Once Mendez realized he was going to achieve that first step of his goal to wear jersey No. 33 as the kicker for the Oilers, he saw another opportunity that gave him an even greater purpose beyond the gridiron of competition that would have a life-saving impact on young lives.
When the season began, Mendez announced that he wanted to help raise money for cancer research based on his success of kicking extra points and field goals so he joined hands with Alex's Lemonade Stand Foundation because he found it to be a credible way to raise awareness and money for childhood cancer research.
"Alex's Lemonade Stand is directly aligned with the Kohls Kicking Organization that I am deeply involved in," Mendez said. "Having the opportunity to use my talent on the field to support the campaign and represent Kohls Kicking and Pearland High School is an over all win."
Being young and making this his initial effort in cancer awareness through this organization, Mendez set a modest goal of raising $250 for cancer research.
Without too much publicity and fanfare and with the response of a few people, the final total for the season exceeded his original goal as $750 was donated to Alex's Lemonade Stand Foundation in the name of Caleb Mendez.
"I will be involved in the campaign again next year and I fully intend to increase my goal amount," Mendez said. "I will find new ways to spread the word about raising money for the organization so I can help out even more next year."
Mendez had a good first year for the Oilers as he was selected to the All-District 23-6A second-team as a placekicker which is a great honor for his initial varsity season. The hard-working Mendez will no doubt become one of the best placekickers that has ever worn a Pearland uniform and that includes current New Orleans Saints All-Pro punter and Super Bowl winner Thomas Morstead (PHS – 2003).
"This experience has given me more insight to how blessed me and my family are to have our health," Mendez said. "There are too many who aren't as lucky, and I am kicking for them!
"I am hoping my kicking game will be utilized more as far as field goals so I can get more points on the board for my team because every point I put on the board raises money for the campaign."
For more information on supporting Mendez and his efforts to raise money for cancer research, go to www.alexslemonade.org and read about this great organization and what they are doing to support cancer research — especially for children. You can look for the name Caleb Mendez on the website to see the first year of his effort to support this cause. Follow Caleb on Twitter @kicker2021 to follow his high school career.
"My goal is to not only use my skills as a kicking specialist but to use my platform on the varsity team of the Pearland Oilers to change 'from good football, to football for good,'" Mendez concluded. "Please help me help the kids with cancer – Let's Kick it!"