NFL star returns home to guide young kicker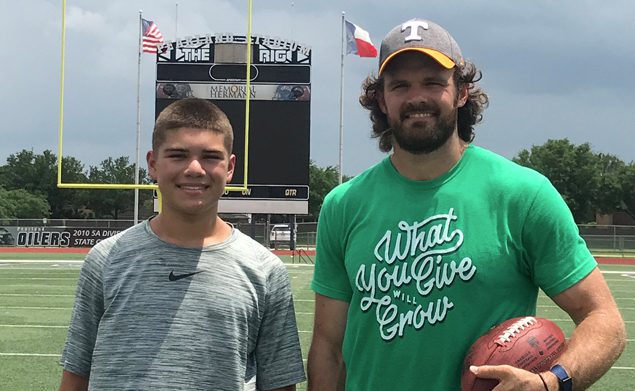 Former Pearland Oiler Thomas Morstead was drafted in the fifth round of the 2009 NFL Draft with the 164th overall selection by the New Orleans Saints. He was the second punter chosen in 2009.
Morstead played a critical role in the Saints' victory over the Indianapolis Colts in Super Bowl XLIV. When people recall the game, the key to the Saints win was when Morstead executed an onside kick during the second half kickoff. The Saints recovered the ball and were able to convert that possession into a touchdown and a 13–10 lead.
The Saints would eventually win the game 31–17. After the game, Morstead stated that while he was excited about executing the play, he was also terrified knowing that if the play was not executed perfectly, the Colts would have likely recovered the ball with a shot of extending their 10–6 lead.
He currently holds the record for most kickoff touchbacks in one game (9 in a 62–7 defeat of the Indianapolis Colts on October 23, 2011) and the record for the most touchbacks in a single season (68 in 2011).
The NFL punter came back home to Pearland to spend time with Pearland's young place kicker, Caleb Mendez. The junior-to-be was grateful for the time and advice he received from Morstead.
"Thomas Morstead is a really cool guy and really easy to talk to," Mendez said. "Being around a Super Bowl winner can be very intimidating but he made the training experience a fun and informative one.
"This was a once-in-a-lifetime experience for me that not many athletes get to have which made it that much more special. I finished up my hour-and-a-half session with him with very informative information that I'll keep with me for a lifetime."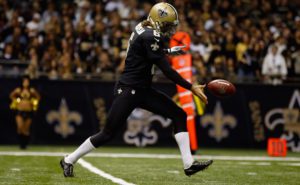 Morstead played his college ball at SMU before moving on to the NFL. He certainly knows the importance of getting a college degree and the work it takes to advance to the next level.
"His advice for me looking towards the future and beyond high school football was to stay focused and keep grinding-on both my academics and football," Mendez said. "He gave me encouragement that if I keep doing what I am doing I will have a successful future on the field and be able to play at the next level."
Of course Morstead shared his insight as to how to handle the pressure on the field during a game.
"To get mentally prepared for games, he emphasized it is important to treat every kick the same," Mendez said. "No matter if it's a PAT or a 50-yard game-winner, every hit on the ball should be equally important and executed. I have to go into each game with a clear, focused mind, something I think I do well."
Morstead also emphasized how important it was to get into the weight room. When Morstead played for the Oilers, he was 6-3, 175 pounds. Today, he is 6-4, 235 pounds and he has an unbelievable work ethic.
"He stressed now is the time to take it to the next level and training as I would for college both mentally and physically," Mendez said. "Also, hitting the weight room is key. Thomas' workout regimen is on a whole other level that I hope to one day be able to match. Definitely don't ever skip a gym day."
Even at such a young age, Mendez has a drive to be the best kicker he can be for his team and for himself. This will certainly come into play for the upcoming 2019 football season as he may be called upon to deliver the game-winning kick for a Pearland victory. If so — he will look back on his time with Morstead and will always be thankful for the special attention he received from an NFL star.