Oilers set to get off to a winning non-district start in 2023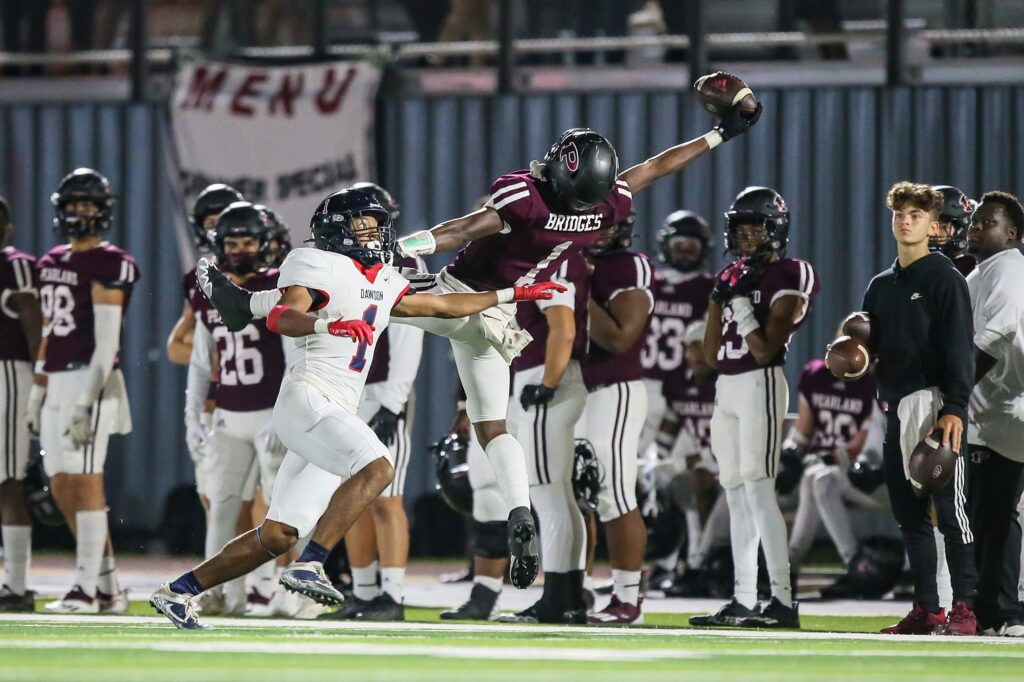 Last year was B.J. Gotte's first year at the helm of the Pearland Oilers football program. He came to Pearland after leading Katy Paetow to the Class 5A Div. I state championship. "It was the hardest decision I've ever had to make," Gotte said of leaving Paetow. "Katy is where I'm from. It's home. When I went to Paetow, I went with the intent of raising my family there. That's why you take it, is to be there. "But every coach always has a list of schools in their mind where, if they ever reached out or an opportunity ever presented itself, you at least have to listen. Pearland was one of those places."
Gotte is a winner, having been a part of four state champions: three as an assistant coach and offensive coordinator at Katy (2003, 2012, 2015) and one as offensive coordinator at La Marque (2006). He played on the offensive line for the legendary Mike Johnston at Katy in the '90s, graduating in 1997. As a sophomore, Gotte helped the Tigers to the state final against Plano. He also coached under Johnston from 2001-2003 as an assistant offensive line coach and was assistant coach and offensive coordinator under Gary Joseph, who succeeded Johnston in 2004, from 2009-2016 after stints at Deer Park, La Marque, and Flower Mound Marcus.
With just a few months in Pearland, Gotte began his journey as the leader of the Oilers. Pearland began the 2022 season with a 1-2 non-district outcome falling to Clear Falls 20-17 and C.E. King 45-7 while defeating Spring Branch Memorial 40-14. The Oilers went on to finish third in the District 23-6A race behind Shadow Creek and Dawson while advancing to the post-season for the 23rd straight year. A 35-21 loss to Dickinson in the opening round of the playoffs ended the season at 6-5.
A very optimistic Gotte sees 2023 getting off to a much better start now that the Oilers have had a year under his guidance. "After going through our first true off-season, it was important for us during spring football to get back to basics fundamentally (blocking and tackling), develop and grow our football understanding (IQ), while identifying what our strengths and weaknesses are with personnel," Gotte recently said. "One of the biggest areas of need going into the off-season was to improve our strength, speed, and explosiveness."
Pearland faces the same non-district teams as they did last year but Gotte is confident that the outcome will come out differently for two of the opponents.
Pearland Oilers vs Clear Falls Knights
Friday, August 25
Pearland ISD Stadium at 7:00 p.m.
The Oilers were in a position to win the season opener and first game for new head coach B.J. Gotte last year but came up a little short to the Clear Falls Knights 20-17. Pearland missed a field goal late in the fourth quarter and the Knights ran off the final 3:16 time off the clock to escape with a 20-17 win. "We are obviously disappointed in the result from," Pearland head coach BJ Gotte said. "Especially when you feel like you had multiple opportunities to win the game. The kids played hard, and I was proud of them for that, and we competed until the end." Clear Falls finished with a 9-3 season record while advancing to the area round of the playoffs. They finished second in the district behind league champion Dickinson. The are a pre-season second place pick behind the Gators in 2023. The Knights return nine offensive and three defensive starters and 34 lettermen this year. With all five offensive line starters returning to protect starting QB Ky Barker (6-2, 180), the offense will be the early pacesetters for the Knights. Barker threw for 2,017 yards and 14 TDs last season. Clear Falls will also see help from RB Payton Greer (5-9, 190, 4.5) who rushed for 366 yards and two TDs while catching 22 passes for 226 yards and two scores. Despite a young defense, the Knights will be led by LB Jackson Waid (6-1, 210, 4.7) who had 94 tackles, 8 TFL, and four sacks. He will get support from DE Le'Kell McGowan (6-4, 210, 4.7) who had 13 TFL, seven sacks, and 61 tackles. Both are DI prospects.
Pearland Oilers vs Spring Branch Memorial Mustangs
Saturday, September 2
Tully Stadium at 6:00 p.m.
Pearland and SB Memorial have had a long-standing rivalry that dates back to 2004. The Oilers have an overall 13-3 record against the Mustangs but, for the most part, the games have been close. The Oilers gave coach Gotte his first win as the head coach of Pearland 40-14 over Memorial. The Mustangs should be improved this season as they have six offensive and two defensive starters returning with 24 lettermen from an 8-4 season that advanced to the 6A area round. Memorial is a pre-season pick to finish in third place in District 17-6A behind Cypress-Fairbanks and Houston Stratford. Offensively, the Mustangs will lean on senior QB Jackson Salters (6-1, 185, 4.7) who threw for 950 yards and 8 touchdowns last year. RB Cooper Gindorf (5-10, 175, 4.5) will also provide strong leadership after gaining 708 yards and eight TDs. OL Max Wang (6-5, 320) will anchor the offensive line with WR Will Van Wie (6-2, 180, 4.6) and TE William Fowler (6-1, 190, 4.7) providing strong leadership Fowler had 32 catches for 379 yards and two TDs. The defense will be very inexperienced, but they still have junior LB Mason Riddle (6-0, 190) and senior DE James Klingberg (6-4, 240, 4.8) who had 37 tackles and five sacks to provide leadership on that side of the ball.
Pearland Oilers vs C.E. King Panthers
Friday, September 8
Pearland ISD Stadium at 7:00 p.m.
The outcome of the game between Pearland and C.E. King didn't end the way that new head coach B.J. Gotte wanted, but it was another indicator on the progress that the Oilers are making under the new coaching regime. "I was proud of the effort the kids played over all four quarters," Gotte said. "When you are playing a team as physically talented as CE King, it is important to match their physical intensity as well as be disciplined in our play. "The margin for error against a team like that is so small, so when you make mistakes in assignments, they will make you pay." C.E. King clearly dominated the game for the
45-7 win so the Oilers hope to reverse the outcome this year. The Panthers are a pre-season fourth place finisher in one of the toughest districts in the state behind 6A state finalist North Shore, Atascocita, and Summer Creek. With only two offensive starters and one defensive starter returning with 19 lettermen, King graduated 35 seniors from a 9-5 DII regional finalist squad. The Oilers will be much more competitive this year to reverse the outcome from a year ago. Oilers set to get off to a winning non-district start in 2023.