Pearland QB JD Head selects Louisiana Tech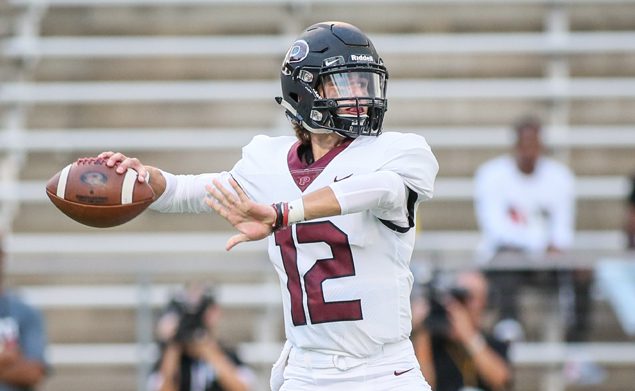 After months of speculation, Pearland senior-to-be quarterback JD Head has selected the Louisiana Tech Bulldogs as his next destination to continue his education and football playing career.
Head, who transferred to Pearland from Oklahoma during the summer of 2018, was immediately accepted by the coaches and his teammates and the signal-caller proved to be everything and more as expected in helping the Oilers achieve success.
Head was 170-of-277 passing for 2,468 yards that included 25 touchdowns and six interceptions while gaining 165 yards rushing on 35 carries and one score.
The field general set three new PHS passing records previously held by former Pearland All-State quarterback Trey Anderson who led the Oilers to a 5A Division I state title in 2010. Head now owns the records for passing yards in a single-game (357), single-game touchdown passes (6), and most touchdown passes in a season (26).
In a recent interview, Head said, "They (Louisiana Tech) made me feel at home," Head said. "It's a special place with a winning culture. Everyone I talked to loved it. I think they liked the stuff you don't see. The leadership, knowledge of the game and how I get along with people. I think that's what sets me a part from other guys."
Head guided Pearland to a 10-0 regular season mark and the District 23-6A championship in 2018.
"My goal is the state championship," Head said. "I want that more than anything. Finding the right fit early was a big thing for me."
The season last year for Pearland came to a screeching halt with a first-round loss to Dickinson.
During the offseason, Head said he has been a student of the game, learning from everyone around him and has been spending a lot of time in the weight room to get ready for one last run.
"We've been working really hard, that was tough," Head said about the first-round loss to Dickinson. "I'm just going to say that a game like that will not happen again. We will be the hardest working team on the field every Friday night. It's just that culture we are trying to build. Getting guys to buy into the process."
Since last season, the Oilers have added some key players that should compliment the outstanding passing that Head has exhibited.