Pearland sets new scoring mark with a 73-0 win over Alvin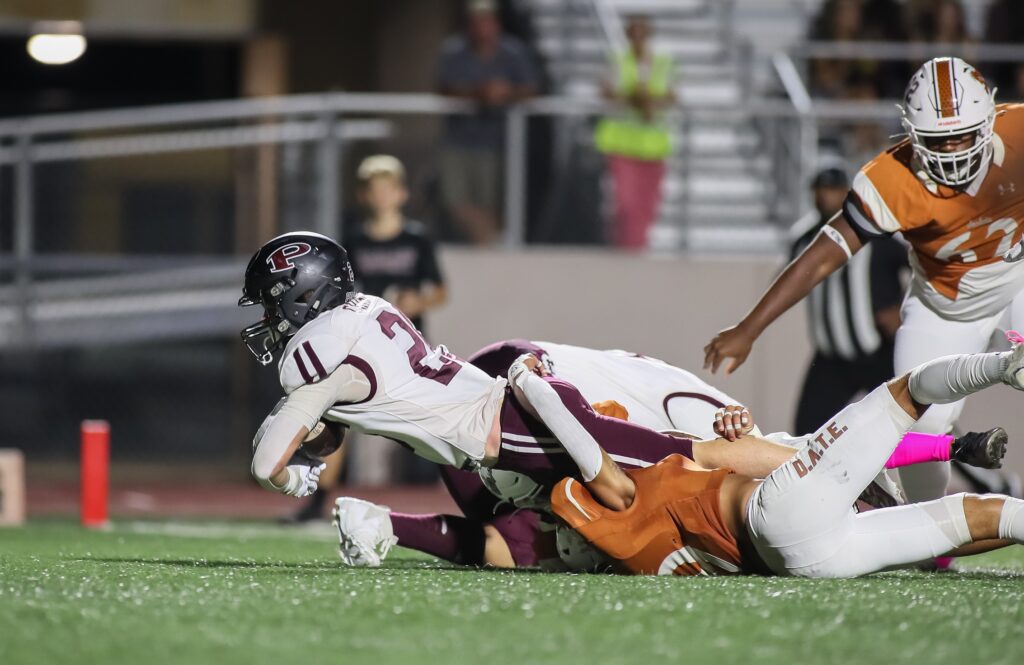 Only one time has Pearland scored more than 70 points in a game against an opponent, and that was on October 15, 2015, when the Oilers blanked the Sam Rayburn Texans 72-0.
Last week, Pearland traveled to Memorial Stadium where they faced the Alvin Yellowjackets in a district contest and returned home with a lopsided 73-0 victory that set a new team record for points scored in a single game while also improving their 2023 season record to 5-1 and 3-0 in league action.
The Oilers have been improving each week in a dramatic way, and the hard work of the coaching staff and players continues to reap dividends in a big way.
Pearland scored five times in the first 12 minutes to build a 35-0 lead over the Jackets. Leading the way was running back LaDamion Mcdowell who scored three of the five touchdowns as he crossed the pay station on runs of 23, 12, and 1-yards. QB Cole Morkovsky found WR Patrick Bridges for a score covering 8-yards, and junior running back Tate Chisolm punched a score on a 14-yard run.
The second quarter was more of the same as the Oilers scored two more times as Morkovsky and Bridges hooked up on a 42-yard scoring strike while the Pearland special teams blocked an Alvin punt which was returned 9-yards by sophomore Sam Armstrong with 7:20 remaining in the second period. When the first half ended, the Oilers took a 49-0 lead into the dressing room.
The second half was more of the same as the Oilers scored twice in the third quarter when Mcdowell scored on a 4-yard run and Chisolm scored on a 6-yard run to increase the lead to 63-0. Pearland head coach B.J. Gotte emptied the bench, and the Oilers scored two more times in the final period as Josiah Davis crossed the goal line on a 3-yard run and senior Diego Linares booted a 39-yard field goal with 4:26 left in the game to put the finishing touches on the 73-0 district win.
Morkovsky was 8-for-8 passing for 201 yards and two TDs. Mcdowell had eight carries for 80 yards and four scores while Chisolm had six totes for 46 yards and two scores. Bridges had three catches for 70 yards and two TDs while Jordan "The Jet" Hernandez had three grabs for 102 yards.
Pearland (5-1, 3-0) and Dawson (3-3, 3-0) will face one another on Friday, October 13 at 7:00 p.m. in the 10th Annual PearBowl at Pearland ISD Stadium.