Pearland takes out Strake Jesuit 41-20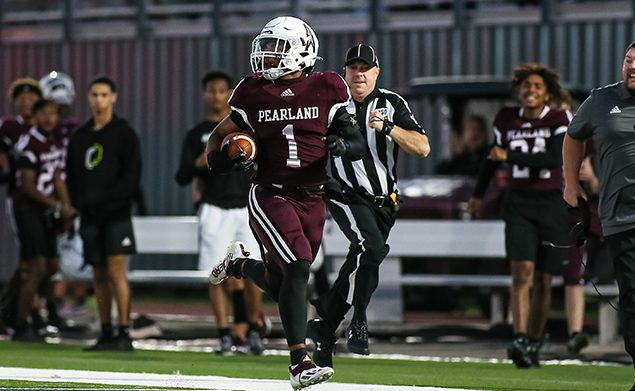 Having a week off proved just the remedy that Pearland needed to prepare for their District 23-6A contest as they defeated the Strake Jesuit Crusaders 41-20 in the league opener for both teams.
The Oilers had struggled in their first three non-district games with injuries hampering the team. Getting two weeks off proved to be just what the doctor ordered as Pearland looked like an entirely different team against Strake Jesuit.
The offense produced big, game-changing plays in a display of a much more attacking game plan while the defense came up with outstanding plays that kept the Oilers in command of the game.
After Pearland forced Strake Jesuit to punt on their opening possession, the Oilers set up at their own 27.
On the first play of the game for Pearland, quarterback Jake Sock fired a long-range missile to wide receiver Izeal Jones who caught the ball for an 83-yard touchdown and a 7-0 lead with 9:46 left in the opening quarter. Jackson Stagg booted the PAT.
After the ensuing kickoff, Dylan Dixson picked off a pass giving the Oilers the ball deep Strake territory. Running back Dominic Serna weaved his way through the Crusaders defense for a 16-yard touchdown and a 14-0 lead with 4:21 left in the opening period.
Pearland would strike again in the second quarter when junior running back Kennedy Lewis got loose on a 73-yard scoring jaunt to increase the lead to 20-0 following the missed PAT.
Strake would finally get on the scoreboard with only :06 seconds left in the first half to cut the lead to 20-6 at intermission.
To show the first half was no fluke, Pearland scored on their first possession when Sock threw a 55-yard scoring bomb to Jones again to increase the lead to 27-6 with 11:22 left in the third quarter.
Jones caught four passes for 212 yards which set a new single-game PHS receiving record for most yards. The previous record of 189 yards was held by Kevin Miller.
Strake responded with a 10-play, 75-yard scoring drive capped off with a 12-yard scoring pass from QB Bryce Fucik to Chico Holt to close the margin to 27-13 with 8:18 left in the third period.
After the teams traded punts, Strake scored again with 11:51 left in the final period on a 57-yard scoring run by Joel Crawford to pull within 27-20.
But the Oilers got back on track to shut the door on the Crusaders when Sock hit Isaac Sanchez on a 37-yard touchdown pass with 10:04 left in the fourth and then Sock drove the nail in the coffin when he scored on a 31-yard keeper for a 41-20 lead with 3:59 left in the game after Stagg hit the PAT's.
"Our kids played hard and played well," Pearland head coach Ricky Tullos said. "We had been a little inconsistent in pre-district, and we executed against Strake. It started with some great throws by our quarterback to some receivers, and our running backs ran the ball well."
The defense also stepped up led by Dylan Dixson, Torik Aigbedion and Ashton Hampton who came up with interceptions and Deveon Moses recovered a fumble.
Sock was 7-of-13 for 267 yards and two touchdowns while Serna had 141 yards rushing on 17 carries for one score. Lewis had seven totes for 111 yards and one score. Jones had four catches for 212 yards and a pair of scores.
Pearland had 613 yards of total offense with 346 on the ground.
The Oilers (2-2, 1-0) will travel to Alvin's Memorial Stadium on Friday, October 1 to face the Alvin Yellowjackets (3-1, 1-0) at 7:00 p.m.