Pearland pounces on Alief Hastings 55-14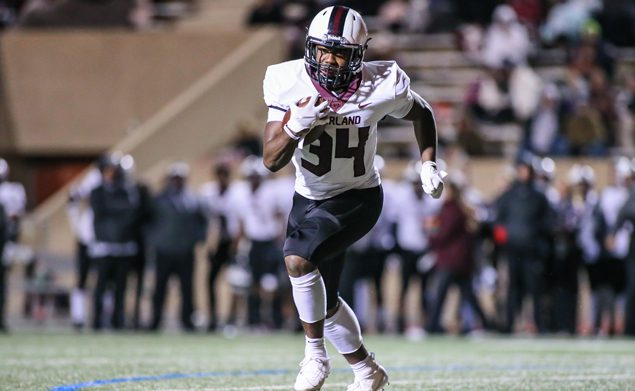 With only two games remaining in the 2019 regular season, Pearland will face winless Brazoswood and playoff hopeful George Ranch.
The Oilers have all but punched their ticket to their 20th consecutive post-season as they are now 6-2 overall and 4-2 in district. A win over Brazoswood would secure their spot to extend their season.
It looked like Hastings was going to give Pearland a run for their money in the opening quarter as the Bears scored first on a 16-yard pass from QB Terence Thomas to Caleb Bowman for a 7-0 lead with 8:37 left in the opening quarter.
But Pearland tied up the game in 27 seconds as junior running back Brandon Campbell got loose on a 34-yard scoring run. Caleb Mendez hit the PAT to tie up the game at 7-7 with 8:10 left in the first period.
Hastings was forced to punt on their next possession and the Oilers struck again, this time on a 55-yard run by junior running back Torrence Burgess with 6:30 left in the quarter for a 14-7 lead following the Mendez PAT.
With 1:02 left in the period, Pearland scored for a third time when Campbell rammed across the goal line on a 4-yard plunge. Mendez added the PAT for a 21-7 advantage.
But the Bears were going away at this point in the game as Kollin Jackson slipped behind the Pearland secondary for a 68-yard bomb from Thomas with :03 seconds still left in the quarter leaving the Oilers ahead 21-14.
That would be as close as the Bears would get as the Oilers turned up the intensity and effort to add one more score in the second quarter on a 21-yard touchdown run by Campbell with 3:20 left before intermission. Mendez was on target with the PAT and the halftime score was 28-14.
It was all Pearland in the second half as they scored 27 unanswered points while the defense held the Bears scoreless.
With 6:53 left in the third quarter, Burgess scored on a 2-yard run and then tacked on a 5-yard scoring run at the beginning of the fourth quarter to give Pearland a 42-14 lead with 10:22 left.
Pearland added two more scores in the final period as Darius Hale scored on a 57-yard run and Dominic Sena scored on a 2-yard run with 3:06 left in the game to make the final score 55-14.
Burgess led the ground attack with 184 yards on 16 carries for three touchdowns.
Campbell had 11 carries for 101 yards and three scores while Hale had four totes for 63 yards and one TD.
Quarterback Layne Roblyer was 17-for-26 passing for 194 yards.
Jeremiah Aaron had three catches for 62 yards. Clayton Broeder had four grabs for 38 yards while Cedric Mitchell had three catches for 34 yards. Campbell had once catch for 45 yards.
Pearland travels to Clute to face winless Brazoswood on Friday, November 1 at 7:00 p.m. at Hopper Stadium.