Pearland dominates Alvin for 40-7 Homecoming win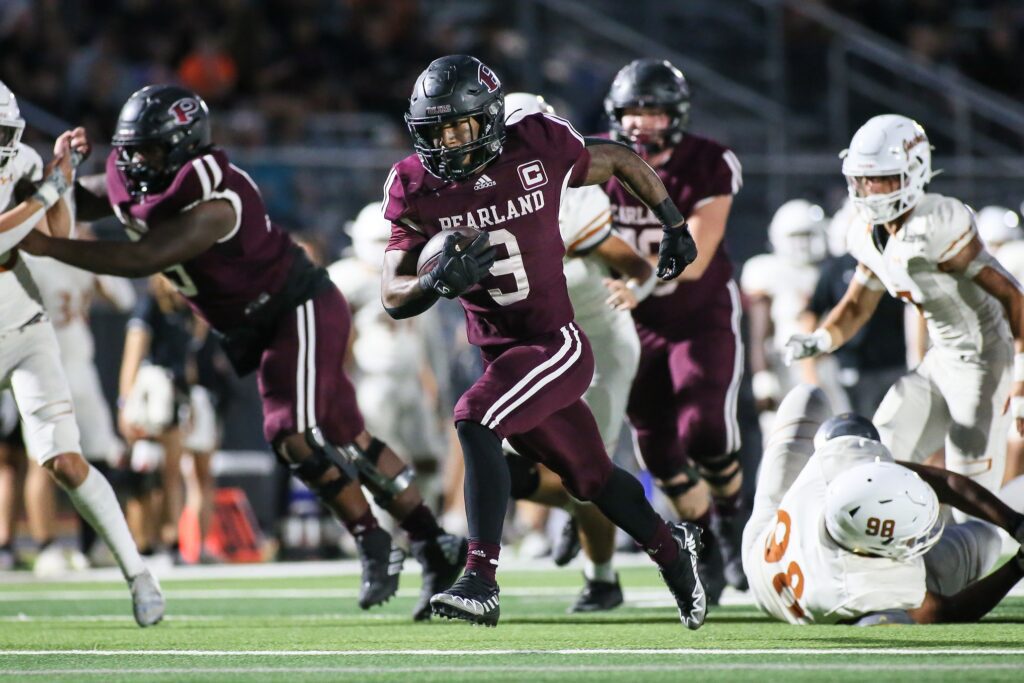 The last time an Alvin team beat Pearland was in 1993 when the Yellowjackets won 17-14. That means the players for both teams weren't even born yet. Since that time — most of the games between the two neighboring schools haven't been close.
Pearland hosted Alvin for their 2022 Homecoming festivities and easily claimed a 40-7 win over the Jackets.
The Oilers have shown improvement with every game this season and that was evident in the game against Alvin as the offense and defense dominated both sides of the ball throughout the game.
Offensively, the ground attack was led by senior running back Kennedy Lewis and sophomore LaDamion McDowell who shredded the Alvin defense with a combined 262 yards rushing and two rushing touchdowns. Lewis had six carries for 130 yards and two scores while catching one pass for 14 yards and a third touchdown. McDowell had 130 yards on 11 totes and one grab for 11 yards.
Add the passing of sophomore quarterback Jackson Hamilton, who was 10-of-12 passing for 144 yards and three scores and one can see how the Oilers dominated offensively against the Jackets defense.
Defensively, the Oilers were led by senior Zander Winter who had nine solo tackles, two assisted stops, and three tackles for loss. He was joined by six other players who had stops behind the line of scrimmage while the team totaled 60 tackles.
Pearland got things started in the opening quarter as they went on a 5-play, 56-yard scoring drive capped off by an 18-yard scoring scamper by Lewis with 7:36 left in the period. Jackson Stagg hit the PAT for a 7-0 lead.
Alvin had their best offensive drive of the game on their ensuing possession as they started at their own 23 and stalled at the Oiler 19. The Jackets opted for a 41-yard field goal attempt that missed wide left leaving the Oilers with a 7-0 lead with 38 seconds remaining in the opening stanza.
Pearland took over at their own 24 and Lewis ripped off a 19-yard run to the 43. Four plays later, Hamilton tossed a short pass to Juan Marines who turned the play into a 35-yard scoring run for a 13-0 lead following the missed PAT.
The Oilers held the Alvin offense to three plays and out.
Starting at their own 28, it took Pearland only three plays to find pay dirt as Lewis got loose for a 42-yard scoring jaunt with 8:27 remaining in the second quarter. Stagg hit the PAT and the Oilers had a 20-0 advantage.
Pearland would add one more score before intermission as they completed an 86-yard, 9-play score drive as Hamilton threw an 18-yard touchdown pass to Patrick Bridges who made a sensational catch in the corner of the end zone giving the Oilers a 26-0 lead following another missed PAT with 1:16 remaining before intermission.
The second half belonged to Pearland as the Oilers scored two more times when Hamilton scored on a 32-yard QB keeper and the young signal-caller threw a 14-yard scoring toss to Lewis who gathered in the short pass and weaved his way to pay dirt giving Pearland a 40-0 lead with 2:01 remaining in the third period.
Alvin managed to turn an interception by the Pearland back-up quarterback into a 1-yard score to post the final 40-7 score.
The Oilers passing game saw Bridges lead the receiving corps with five catches for 58 yards and one score, Marines had one catch for 35 yards and a TD, Lewis had one grab for 14 yards and one TD, Evan Gracia had one reception for 20 yards, and McDowell had one catch for 11 yards.
Pearland will host Dawson for the annual Bayway Chevrolet PearBowl on Friday, October 14 at The Rig at 7:00 p.m.