Pearland set to improve for the 2023 football season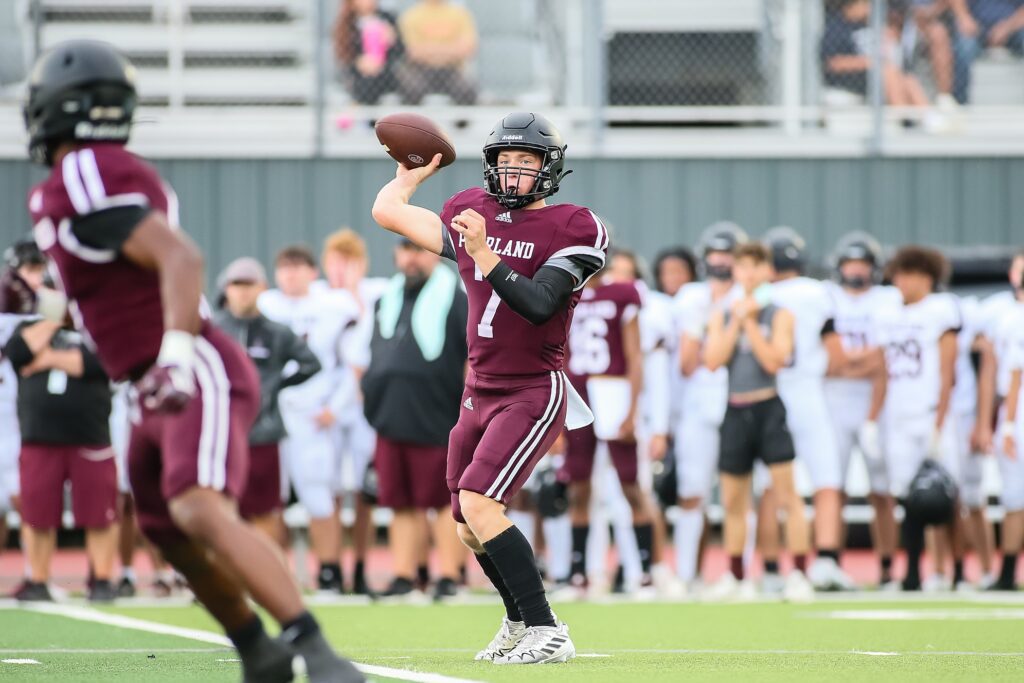 The mark of a successful football coach and team is striving to improve in every aspect of the game. That is the desire of Pearland head coach B.J. Gotte as he prepares for his second year with the Oilers. Gotte knows what it takes for a football team to be successful and to be in the upper echelon of competition as he came to Pearland after winning the Class 5A Div. I state title with Katy Paetow.
"After going through our first true off-season, it was important for us during spring football to get back to basics fundamentally (blocking and tackling), develop and grow our football understanding (IQ), while identifying what our strengths and weaknesses are with personnel," Gotte recently said. "One of the biggest areas of need going into the off-season was to improve our strength, speed, and explosiveness."
There is no question that Pearland will be a stronger team than they were last year after being under the guidance of coach Gotte and his staff. The Oilers finished in third place (5-2) last season in the district while advancing to the post-season for the 23rd consecutive year. They closed out the 2022 season with a 6-5 mark after losing to Dickinson 35-21 in the opening round.
"Last year our two district loses were by a combined 11 points, (4 points to Shadow Creek and 7 points to Dawson) so our goal is to close the gap to our opponents and compete to win a district championship," Gotte said. "Losing in the first round was a bitter pill to swallow, so we also are working hard to earn the right to win our first-round playoff game and make a run in the playoffs."
Gotte understands the importance of laying a proper foundation of discipline and hard work — something the Oilers were lacking over the previous few years before Gotte's arrival. "After going through our first full off-season, our team averages in every measurable category improved," Gotte said. "As a team we are stronger, quicker, faster, and more explosive, now the focus is translating that improvement to success on the field."
Pearland is a pre-season pick to finish second in the district behind defending champion Shadow Creek who went 11-1 last year. But Gotte knows that games are won on the field and not in pre-season polls so he is confident that his team will see positive results due their hard work in the off season.
In looking forward to the 2023 season, Pearland returns eight offensive and three defensive starters as well as 29 lettermen. "The confidence level in alignment and assignment on both sides of the ball has been encouraging to see this spring," Gotte pointed out. "We, as a staff, were able to dive more into the details of the fundamentals, scheme and technique this year because of the familiarity of our players had developed from the fall, and we were fully staffed this spring."
Another underlying issue that has drastically been evident is the players are proud to be Oilers again. The sense of pride has re-surfaced that had been lost in recent years. Gotte has also been impressed with some players who have shown vast improvement since last year.
Included on that list is senior QB Cole Morkovsky who has really stepped up to become the field general for the Oilers. "Cole is a great leader, super smart, throws the ball well and is a good game manager," Gotte said. "I believe he is quite capable of getting the job done which is what we need at this time. He is at a key position in our offense."
Gotte also listed WR Luke Allen and OL Elijah Cavitt as two others who have made an impact and impression on the coaching staff for their effort to improve at their respective positions.
Defensively, Gotte listed DL Jaylen Stewart, DB Evan Gracia, and LB Sam Armstrong as key players who have made significant impressions on the coaching staff.
Leading the offense this year will be Morkovsky; RB LaDamion McDowell (5-8, 160, 4.5) was named 23-6A Offensive Newcomer of the Year. McDowell led the Oilers rushing as he had 151 carries for 801 yards and five scores while he also snagged 17 passes for 204 yards and two TDs; WR Patrick Bridges (6-2, 185, 4.6) who had 32 catches for 479 yards and 6 TDs; FB Juan Marines who had 33 carries for 134 yards; five catches for 75 yards and 2 TDs; OL JJ Wheeler (6-4, 240, 4.9); WR Quinton Murray (6-1, 175, 4/7); OL Toby Argo; OL Henry Dines; WR/DB Evan Garcia, WR Luca Sanchez; and WR Jordan Hernandez.
Leading the defense will be Texas Tech commit DB Ashton Hampton (6-1, 170, 4.5) who had 40 solo stops, 13 assists, 12 TFL, 5 INTs, 2 fumble recoveries, 1 caused fumble, DL Jaden Wincher (6-1, 250) who had 28 tackles, 3 TFL, 5 sacks, DL Jaylen Stewart (6-3-205, 4.8), CB Lazarus Range who had 34 tackles, 14 assists, 2 TFL, 3 INTs, and DL Amari Wilks.
The Oilers will also have a talented kicker in Jackson Stagg who was an All-District second-team selection. Stagg is an outstanding offensive weapon to have for field goals and extra points which can make the difference in a win or loss.