Pearland topples Alief Taylor 34-0 to secure playoff spot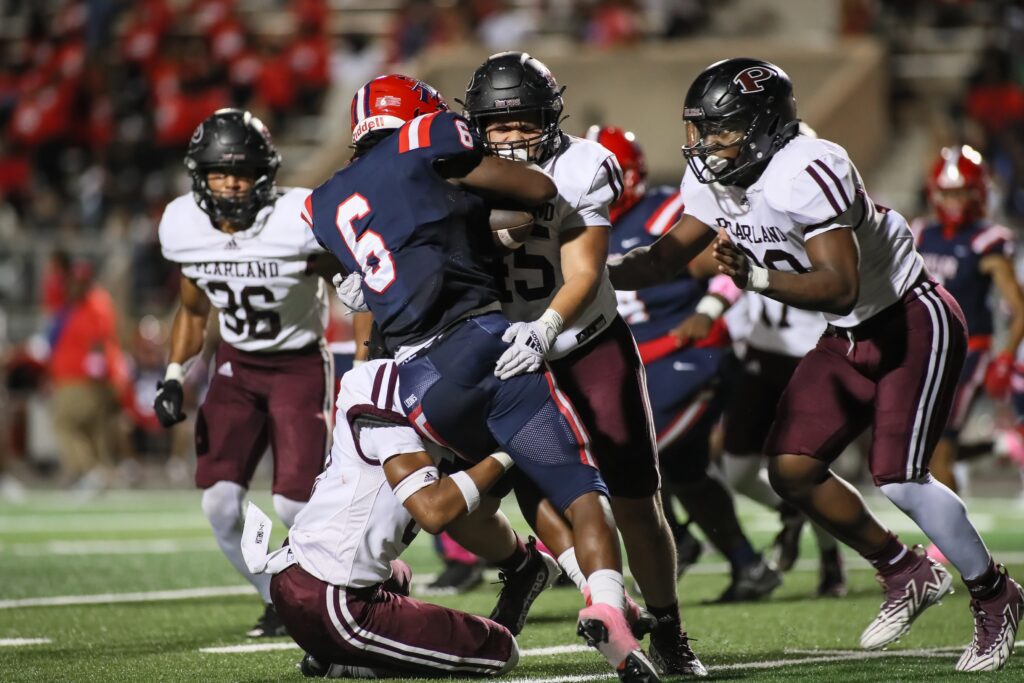 For the 24th straight year, the Pearland Oilers (6-2) secured their place in the Class 6A Region III Div I post-season after shutting out the Alief Taylor Lions 34-0. Pearland has shown marked improvement this year compared to the 2022 season. The Oilers are on track to the two-year projection by head coach B.J. Gotte who said, "It will take us two years to gain the strength and size that we need to compete with the upper echelon 6A teams in the state. So far, we are on schedule to accomplish what we need to do."
The Oilers are in a three-way tie for the top spot on the District 23-6A leaderboard with Dawson and Shadow Creek as all three have a 4-1 league record with two district games to go. Pearland still have district games with Strake Jesuit (3-5, 3-2) and Alief Hastings (1-7, 1-4). Jesuit is in a position to grab the last playoff berth with the Oilers, Eagles, and Sharks.
The Oilers had a tough first half as they fumbled twice in the first half and lost both to an aggressive Taylor defense. But Pearland's defense was up to the challenge as they never allowed the Lions to make a serious scoring threat. The lone score for the Oilers in the first half came on a 1-yard plunge by running back LaDamion McDowell who scored the first of his four touchdowns with 8:28 left in the first quarter for a 7-0 lead.
Both teams struggled the entire opening half leaving the Oilers with the slim 7-0 advantage at intermission. Pearland looked a lot different after making second half adjustments that produced four scores. Three of the scores came in the third quarter as the Oilers took control of the district contest. With 5:28 left in the third quarter, McDowell found the end zone on a 2-yard score. Jackson Stagg hit the PAT, and the score was 14-0.
The Oilers scored again three minutes later as McDowell scored on a 7-yard TD while Stagg nailed the PAT for a 21-0 advantage. It took just a little over a minute for Pearland to strike again as McDowell got loose on a 40-yard scoring jaunt to increase the lead to 28-0. The Pearland defense made their mark late in the final period as Jaiden Brown swiped a pass and returned the interception 36-yards for a TD to make the final score 34-0 following the missed PAT.
Defensively, the Oilers held the Lions to 53 yards on the ground and 95 yards through the air for a total of 148 yards. Leading the way was junior Charles Gooden who had five solo tackles, four assisted stops, and one interception. Senior Jaiden Brown had four total tackles, including one tackle for loss, two pass break-ups, one INT, and one 36-yard pass interception for a touchdown. Jaison Law had six tackles, and Jaden Wincher had four tackles, one tackle for loss, and one forced fumble.
QB Cole Morkovsky hit 6-of-12 passing for 79 yards. McDowell had 23 carries for 155 yards and four scores while Jaylen Vargas had three totes for 42 yards and Tate Chisolm had seven carries for 31 yards.
Pearland will host Strake Jesuit on Friday, October 27 at 7:00 p.m. at Pearland ISD Stadium in the final home game of the season.