Young placekicker ready to compete for Pearland at the varsity level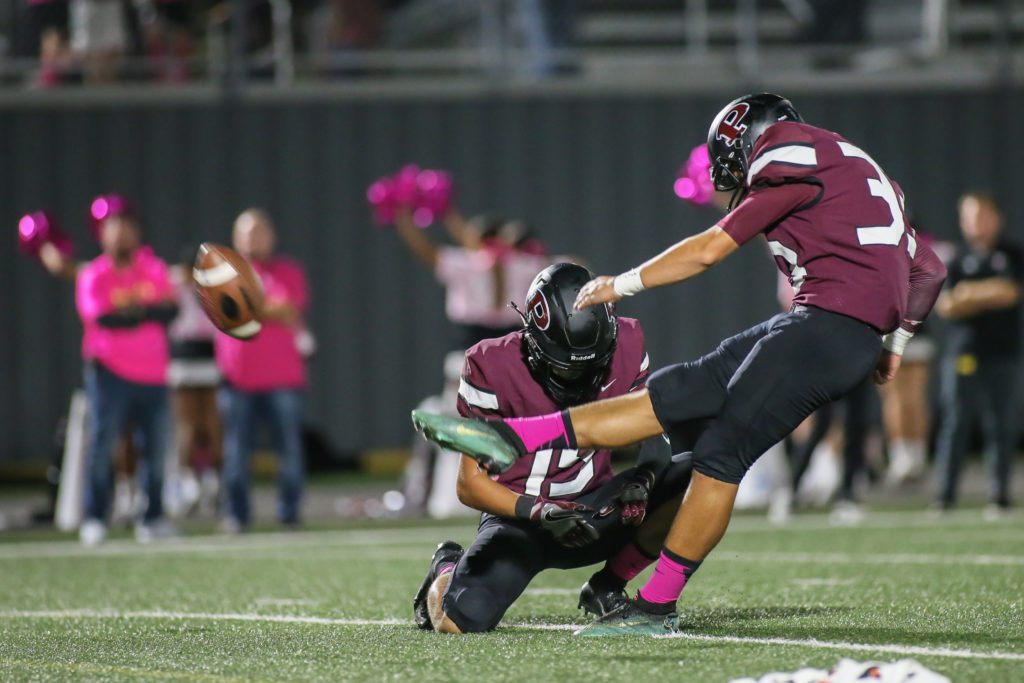 New Pearland head football coach Ricky Tullos has only been on the job a few months and he is still looking at all his troops to see who fits in his coaching scheme on offense and defense. However, most fans don't place special teams high on the list, but a veteran coach knows that special teams can make or break your season. This especially includes the kicking game and Tullos is getting a dandy in sophomore-to-be Caleb Mendez.
Mendez is making it his goal to make the varsity squad this season as the team's placekicker. Mendez has recruited another Pearland alumni placekicker as his coach and mentor Robbie Hersh. Hersh was a special kicker for the Oilers (class of 2008) as he went on to star at Texas Southern in college. Hersh is now an assistant coach at La Marque with two other former Pearland standouts in new head coach Shone Evans, who played at McNeese State, and his brother, former UH running back and All-Stater Anthony Evans.
Mendez is just beginning his journey as an Oiler, but he is excited about the opportunity and so is his mentor Hersh.
In a recent interview with VYPE Magazine, Hersh said, "He is a very special kicker at where he is right now," Hersh said. "You don't have to drag him to go kick. He is bugging you to go kick. He spends time in the weight room developing his body so he can make those big kicks."
"Coach Hersh has taught me everything I know about kicking," Mendez said. "He is constantly helping me improve my craft and if I am fortunate enough to have a kicking career in the future, I will have Coach Robert to thank."
The success that Mendez is seeing at this point is certainly in the right direction as he already has proven that he has the leg strength to boot the ball, with accuracy, over 50-yards.
"Placekicking is all about accuracy," Mendez said. "It is 100 percent accuracy, nothing more and nothing less. My kicks are the same from everywhere on the field, from the PAT to 50-plus yards, sometimes just a little extra sauce on it."
Mendez started his athletic career as most placekickers and that is on the soccer field where he was discovered in the seventh grade by the junior high football coach who asked him if he had ever played football which he hadn't.
"Shortly after, I went to a local park with my dad to test my skills and it turns out I had an unknown talent," Mendez said. "After playing my first football game, I had my sights set on Friday Night Lights."
As with most players, they all have those they look up to as their role model and Mendez is no different.
"I look up to Justin Tucker (Baltimore Ravens) because he is the most accurate kicker in the NFL," Mendez said. "He has kicked many game-winning field goals and he also has many accomplishments that I strive to match one day."
While Mendez is working hard at his craft on the field, his mom, Amber is making sure he is also successful in the classroom.
"Caleb is very strong academically as he is always aiming towards a 4.0 GPA," Amber said. "Socially, he is beyond charismatic, well-mannered, and respectful to those around him."
"Caleb has been playing sports since he was three-years-old. He is extremely competitive and that nature is what makes him so driven and laser focused on his goals."
As the 2018 football season approaches, local Pearland fans will see a lot of new faces take the field at The Rig starting with a new head coach, new assistant coaches, and up-and-coming young players, one of which, will be a sophomore-to-be Caleb Mendez who is proud to wear the Pearland P.
Follow Caleb Mendez on Twitter @Kicker2021 or on online at calebmendez.com as he continues his Pearland journey and beyond.