Atascocita ends season for Pearland 21-6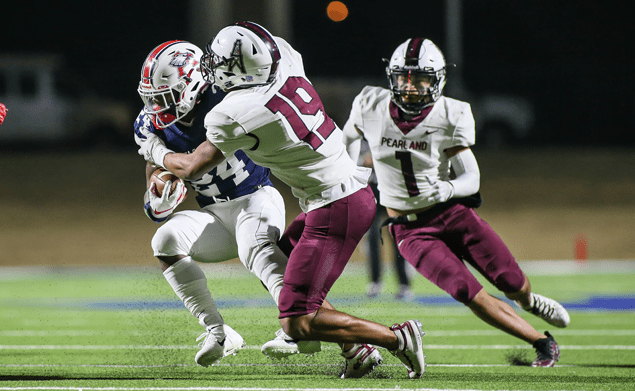 Pearland won the first playoff game under head coach Ricky Tullos, but it was short lived as the Atascocita Eagles handed the Oilers a 21-6 loss in the Class 6A Region III Div. I area round. Pearland closed out the 2020 football season with an 8-3 mark with a third-place finish in District 23-6A behind Dawson and Shadow Creek.
Tullos now has a three-year 26-7 record at Pearland High School and 1-2 record in the post-season.
Atascocita's defense put the brakes on Pearland's offense as the Oilers made several attempts to find the end zone but had to call on UH commit placekicker senior Caleb Mendez who drilled 37 and 43-yard field goals to give Pearland their six points.
The Oilers defense kept Pearland in the game as Atascocita managed only one first half score when Gavin Session scored on a 1-yard plunge with 7:30 left in the first quarter.
Mendez hit his first field goal covering 37-yards at the 3:15 mark of the second period after Pearland drove to the Atascocita 14 before settling for the field goal leaving the Eagles with a 7-3 lead at intermission.
Pearland had an opportunity to take the lead at halftime when Jordan Blalock intercepted an Eagles pass, but the Oilers offense lost a fumble at the Atascocita 13-yard line with seconds remaining in the first half.
Atascocita would score two times in the third quarter thanks to another fumble by Pearland giving the Eagles possession at the Oiler 36-yard line.
With 4:07 left in the third, Quincy Thompson would score on a 2-yard run to make the score 14-3.
On Pearland's next possession at their own 20, the Oilers were forced to punt, but a shanked punt gave Atascocita the ball at the Oiler 26.
With less than a minute left in the third quarter, Session scored on a 13-yard run giving the Eagles a 21-3 advantage.
Mendez would boot his final field goal as an Oiler at the 9:40 mark of the fourth quarter covering 43-yards to post the 21-6 final score as Pearland wouldn't score again.
Pearland was held to only 130 total yards and 2.6 yards per play. The Oilers were held to 54 yards through the air.
Atascocita was limited to 281 total yards with 129 yards on the ground and 152 passing.
QB Jake Sock was only 6-for-26 passing for 54 yards.
Darius Hale had 14 carries for 31 yards.
Dylan Dixson had four catches for 36 yards.
Pearland closes out the 2020 season with an 8-3 overall mark.