Clear Falls edges Pearland 20-17 in season opener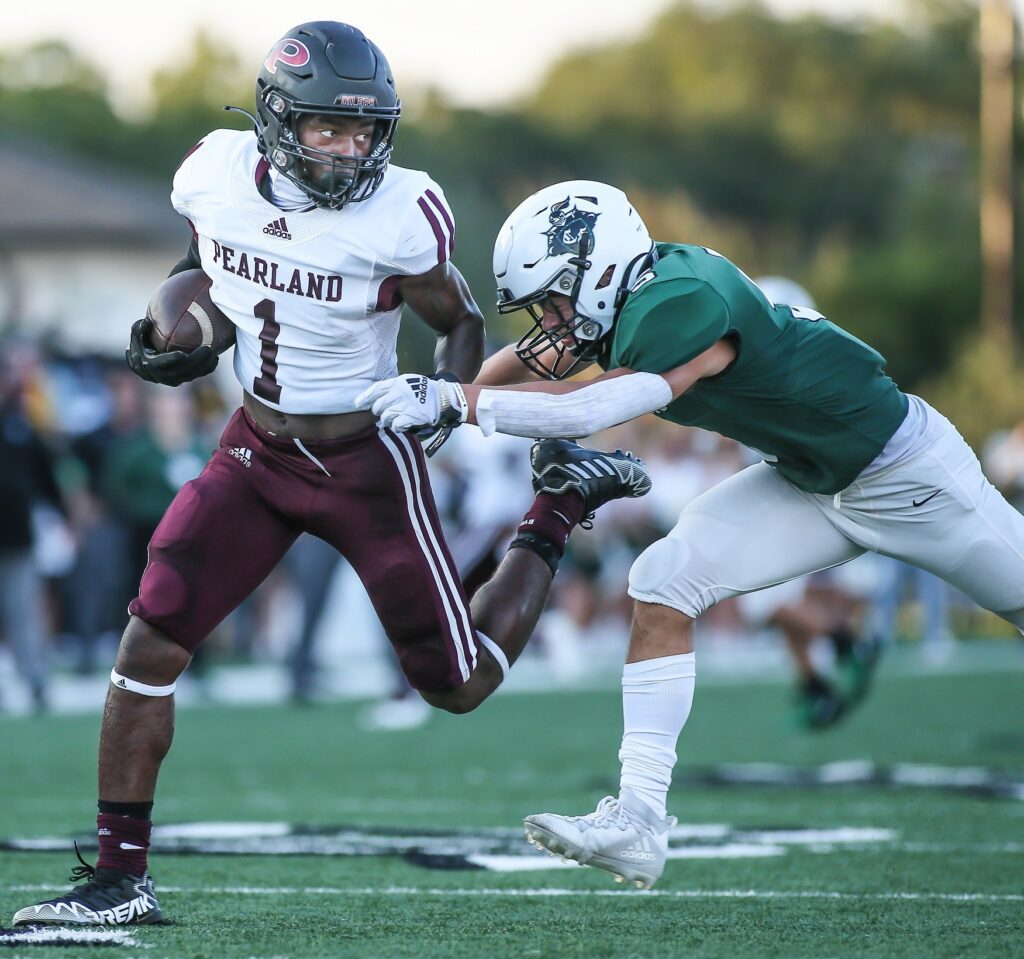 While it takes time for a new head coach to implement his system and culture to his players, it was evident that the Pearland players showed a lot more discipline, team unity, and effort under new head coach B.J. Gotte against the Clear Falls Knights.
One loss does not make a season so the Oilers will learn from their first game mistakes and successes as building blocks for the next game.
Pearland was playing a more seasoned Clear Falls team that went 9-2 last season while finishing second behind Dickinson in the District 24-6A race.
The Oilers struck first on a sensational 53-yard run by sophomore LaDamion McDowell with 4:44 left in the opening quarter for a 7-0 lead.
Pearland scored again in the first frame when senior running back Kennedy Lewis found paydirt on a 4-yard run to extend the lead to 14-0 with 1:07 showing on the clock.
Clear Falls finally scored with 4:06 left in the second quarter when running back David Smith scored on a 2-yard plunge to cut the lead to 14-7 which was the score at the half. The scoring drive capped a 14-play, 80-yard march to the end zone.
The Knights opened the second half with Smith breaking a 54-yard scoring jaunt round right end to outrace the Pearland defenders to knot up the score at 14-14.
Pearland took the lead again when kicker Jackson Stagg drilled a 32-yard field goal giving the Oilers a 17-14 advantage with 6:43 left in the third.
With 1:43 remaining in the third, Clear Falls took their first lead of the game when Smith scored on a 7-yard run to cap a 14-play scoring drive. The PAT missed the mark leaving the Knights with a 20-17 lead.
Pearland missed a potential game-tying field goal in the final period, while the Knights managed to run off the final 3:46 off the clock to come away with the 20-17 non-district win.
"We are obviously disappointed in the result from Friday night," Pearland head coach BJ Gotte said. "Especially when you feel like you had multiple opportunities to win the game. The kids played hard, and I was proud of them for that, and we competed until the end."
Offensively, Pearland was led by sophomore quarterback Jackson Hamilton who was 12-of-17 for 134 yards with one interception. McDowell had eight carries for 67 yards and one score while Lewis had 16 totes for 48 yards and a TD. Patrick Bridges had two catches for 53 yards while Christian Pitts had six grabs for 49 yards.
Defensively, the Oilers had three players who had double digit stops which included Cole Anderson (10 unassisted tackles, 7 assisted stops), Gabriel Sheppard (9 unassisted stops, 1 assisted tackle), and Lazarus Range (8 unassisted tackles, 2 assisted).
"We will use this game as an opportunity to learn and continue to grow as a team," Gotte said. "We have a short turn around this week versus a well-coached Memorial team, so we have to address the issues from the Falls game and turn our attention to being at our best for Thursday."
Clear Falls was led by Smith who had 193 yards rushing for three touchdowns.
Pearland (0-1) will host the Spring Branch Memorial Mustangs on Thursday, September 1 at The Rig at 6:00 p.m. for their first home game of the 2022 football season.
Catch and Run
Pearland junior wide receiver Patrick Bridges breaks loose on a 33-yard reception from quarterback Jackson Hamilton. Bridges would add another catch for 20 yards as well as several kick returns as Pearland fell 20-17 to Clear Falls in the 2022 season opener. The Oilers will lean heavily on the 6'2″ Bridges as they look to even their record vs Spring Branch Memorial on Thursday, September 1 at 6 p.m. at The Rig. [Photo by Lloyd Hendricks]