Oilers capture PearBowl Trophy with 56-27 win over Dawson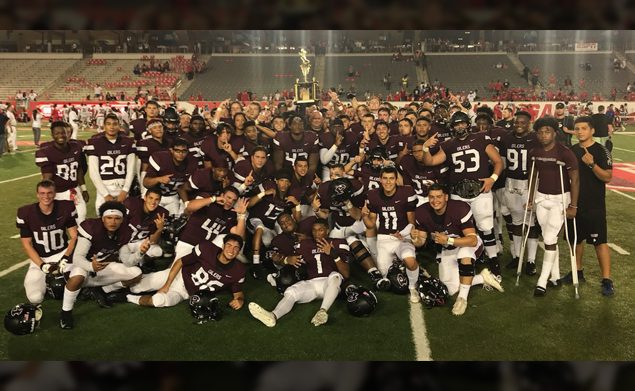 In the fifth meeting of the Dawson Eagles and the Pearland Oilers, the largest margin of victory was a 15-9 win by Pearland in the inaugural meeting between the two cross-town cousins in 2014.
The Oilers won the second meeting 28-27 on a missed PAT by Dawson in overtime in 2015. But the Eagles entered the 5th Annual Bayway Chevrolet PearBowl with a two-game winning streak after taking a 34-32 win in 2016 and a 35-32 last minute victory in 2017 to tie the series at 2-2.
Pearland entered the contest slightly favored, but new head coach Ricky Tullos made sure his players were not distracted by all of the surrounding hoopla of the inner-city rivalry.
"Anytime you play a great ballclub like Dawson and a great rival, it's important to establish momentum early," Pearland head coach Ricky Tullos said. "We needed to come out and play fast, and I felt like our kids came out ready to go."
The game started with a firework display of offense and turnovers in the first 4:22 of the opening quarter.
Pearland scored three times during that span while Dawson also found the end zone making the score 21-6 in favor of the Oilers.
The Oilers got the opening kickoff at their own 30. On the first play of the game, Pearland quarterback J.D. Head dropped back on his own 27, found a streaking Jaden Piece on a 43-yard bomb to the Dawson 27.
Another pass completion from Head to Piece moved the ball to the Dawson 18 and then Pearland running back Jaelin Benefield got two straight handoffs placing the ball at the Dawson 2-yard line setting up an Austin Landry keeper on the fifth play of the game. Caleb Mendez booted the PAT and the Oilers were in front 7-0 with 10:25 left in first quarter.
However, before the Pearland faithful could enjoy their quick lead, the Eagles struck within 1:12 when quarterback Patrick Kramer found speedster Khalil Jones in the middle of the field for a 56-yard catch and run to the Oiler pay station at the 9:13 mark of the opening period. However, the PAT missed the mark and the Oilers were still ahead 7-6.
Less than two minutes later, the Oilers struck again as Head hit Clayton Broeder on a beautiful 23-yard scoring toss at the 7:33 mark. Mendez hit the PAT and Pearland stretched the lead to 14-6.
Once again, before the crowd could settle down following the ensuing kickoff, Dawson began their next possession, but Mason Pierce took a big hit and coughed up the football which was scooped up by Pearland defensive back Johnny Tamayo for another quick touchdown giving the Oilers a 21-6 advantage with 7:18 showing on the first quarter clock.
The Oilers increased their lead on a 1-yard run by Benefield 28-6 who also had a 59-yard run to set up the score and a 28-6 lead.
Dawson was forced to punt which allowed Pearland's Kellen Linton to field the punt at the 34-yard line, picked up a wall of blockers to his right, and only had to evade punter Kramer to complete a 66-yard scoring return. With 2:35 left in the half, Pearland owned a 35-6 lead.
Dawson wasn't going to go away as Kramer hooked up with Jones again for a 20-yard scoring strike to cut the margin to 35-12 after the two-point conversion failed.
With only 47 seconds remaining in the first half, the Oilers moved 77 yards to score with just six seconds left before intermission.
The big play of the drive was when Head's 47-yard pass to Malcom Linton advanced the Oilers to the 30.
Head would eventually connect with Landry on a 16-yard scoring pass as Pearland built a 30-point advantage 42-12.
Head added two more touchdown passes in the second half. One of those covered 26 yards to Broeder and the other was a 10-yard hook-up with Jaden Piece.
The Eagles scored two more times in the final frame as sophomore running back Ja'Den Stewart scored on a 9-yard run and Aeneas McClure caught a 51-yard scoring bomb from Kramer to post the 56-27 final score.
Dawson head coach Mike Allison will look back at this game and see how turnovers contributed to the loss.
"We couldn't afford to have mistakes, and those are the things we're going to have to work on moving forward," Dawson head coach Mike Allison said.
"That's one game on the schedule. We've got about five more important games coming up real soon so we've got to get ready for those.
"We tried to win one play at a time. You can't make up 21 points on a single play. That's a very talented group they have over there (at Pearland). They've got a bunch of big, strong guys that have been playing together for a while, but I credit their play to their coaching staff."
The Oilers were led by quarterback J.D. Head who was 20-for-31 for 341 yards and 4 touchdowns. For the season, Head is 88-of-129 for 1,246 yards and 13TDs and 3 INTs.
Benefield had 11 carries for 134 yards while Torrance Burgess had nine totes for 64 yards. Landry had four carries for 18 yards and two scores.
Piece led the receivers with seven catches for 122 yards and one TD. Landry had five grabs for 66 yards and one score. Malcom Linton had two catches for 51 yards. Broeder had five receptions for 95 yards and two TDs.
Dawson was led by quarterback Patrick Kramer who was 18-for-36 for 271 yards and three touchdowns while suffering a pair of interceptions.
Caleb Eaton led the Eagles on the ground with 14 carries for 68 yards while Ja'Den Stewart had six totes for 46 yards and one score.
Khalil Jones caught seven passes for 122 yards and two TDs while Mason Pierce had six catches for 50 yards.