Oilers complete Spring Game with thrilling end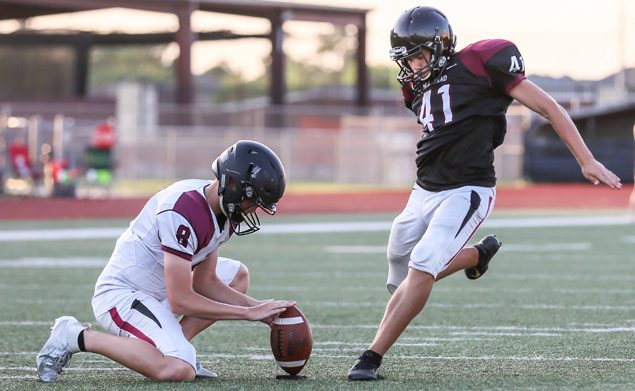 No matter which side was ahead, junior-to-be placekicker Caleb Mendez was going to be on the winning side no matter what.
Mendez, who was an All-District performer last season as a sophomore, has worked extremely hard as the Pearland placekicker. In the Maroon and Black game to wind up spring football practice, Mendez was kicking for both teams.
His kicking for both teams resulted in five field goals and four PATs. Mendez booted field goals of 45, 44, 25, and 41 yards, but the difference-maker was the 32-yard game-winner for the Black team with only 1:32 left in the contest to give them the close victory.
Head coach Ricky Tullos knows he has a real difference-maker entering the 2019 football season and Mendez will only get better as he matures with his kicking skills.
All-in-all, the Spring Game was a very spirited contest as both teams saw players who will lead the Oilers into the 2019 football campaign.
All-District 23-6A "Offensive Player of the Year" and record-setting quarterback J.D. Head showed continued growth to lead the Pearland offense for his final season. Head already has numerous offers including the latest from former LSU head coach Les Miles, who is now the new head coach for the University of Kansas Jayhawks.
The Oilers also got a glimpse of the potential that running back Brandon Campbell will bring to the offense in the fall.
Campbell, who will be a junior, is a new member of the Oilers and already has numerous offers including the University of Arkansas last week.
Potentially, the Oilers will have a seasoned team with several new faces especially on the offensive line.
Defensively, new additions include two players from Manvel that should make the Oilers a strong force against opposing offenses.
Pearland will be much more balanced with a potent ground attack that will include another running back in junior-to-be Torrence Burgess who has speed to burn.
Head will have a stable of receivers that could prove to be the difference in the air attack.
Pearland went 10-0 during the regular season under new head coach Ricky Tullos while going undefeated to capture the 23-6A crown. A playoff loss to Dickinson ended the season at 10-1.
The Oilers will be looking to repeat as district champions and to move deeper in the post-season in 2019.