Pearland edges Strake Jesuit 17-7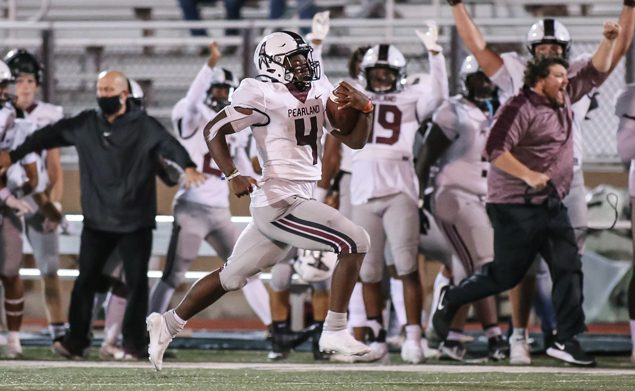 It wasn't pretty, but it was a win as the Oilers scored on a sensational 68-yard cross-county touchdown by Darius Hale late in the game to secure a 17-7 district win over Strake Jesuit.
The win avenged Pearland's loss from last year when the Crusaders rallied to take a 21-14 win over the Oilers.
So far this season, the Pearland defense has kept the Oilers undefeated with a 3-0 mark thanks to an aggressive defense while standing tough against the passing game.
Pearland has nine interceptions so far this season while grabbing three against Strake Jesuit as Kele Linton swiped two and Dylan Dixon grabbed one. Dixon had a pick-6 last week against Spring Branch Memorial in Pearland's 28-7 win over the Mustangs.
The Oilers got a safety by K'Von Sherman and while Dominic Serna scored on a short 2-yard plunge. John Friend added the two-point conversion for a 10-7 lead at halftime.
The two teams battled through turnovers and miscues in the second half until Hale broke free with his scoring jaunt to give the Oilers some breathing room at the end 17-7. Caleb Mendez tacked on the PAT.
Hale led the ground attack with 22 carries for 179 yards and one score. Serna had 15 totes for 59 yards and one TD.
Junior quarterback Jake Sock was 8-of-22 for 68 yards.
Issac Sanchez had one catch for 21 yards while Hale had two grabs for 16 yards, and Garrett Coiner had two catches.
Pearland (3-0) will host cross-town cousin Dawson (3-0) in the annual Bayway Chevrolet PearBowl on Friday, October 16 at 7:00 p.m. at The Rig.