Pearland gets back on track with win over Alief Elsik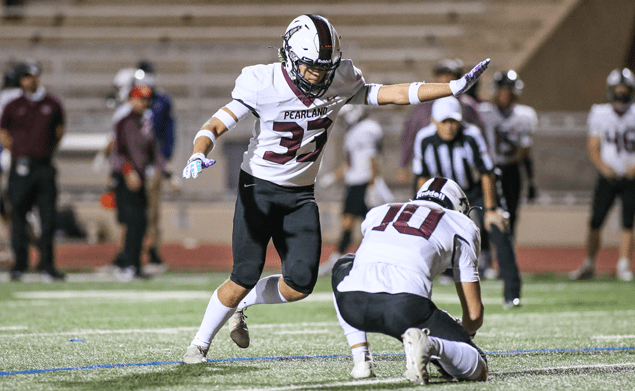 There was never a doubt as to the outcome of this game between Pearland and Alief Elsik as the Oilers rolled over the Rams 43-13.
The Oilers set the pace early by scoring 20 first quarter points while shutting out Elsik.
With less than two minutes gone in the opening period, Elsik was forced to punt after a quick three-and-out. Remington Roberts broke through the protection to block the punt and return it 5-yards for a touchdown. The two-point attempt came up short leaving the Oilers with a 6-0 lead with 11:53 left in the quarter.
The Oilers scored on their next possession as Dominic Serna found paydirt on a 3-yard run. Caleb Mendez booted the PAT for a 13-0 lead.
With 5:04 left in the first frame, Pearland added to their lead as William Foster gathered in a 20-yard pass from junior QB Jake Sock for a touchdown. Mendez hit the PAT giving Pearland a 20-0 lead at the end of the first quarter.
Pearland scored again in the second period when Sock hit Issac Sanchez with a short screen pass that turned into an 86-yard scoring jaunt. Once again, the Oilers missed on their two-point conversion attempt as the lead swelled to 26-0 nothing with 8:06 left before halftime.
With 1:27 left in the first half, Mendez kicked a 32-yard field goal giving the Oilers a commanding 29-0 lead at intermission.
The Oilers added two more scores in the final frame as sophomore Kennedy Lewis scored on a 6-yard run and senior John Friend scored on a 3-yard plunge with only 16 seconds left in the contest.
Elsik managed a touchdown in the third and fourth quarters to make the final score 43-13.
Sock was 4-of-6 passing for 142 yards and one TD.
Lewis paved the way on the ground with 10 carries for 65 yards and one TD. Friend had 58 yards on 11 totes and a score.
Sanchez caught three passes for 122 yards and one score.
Pearland is now 4-1 overall and 2-1 in district. The Oilers will travel to Crump Stadium on Thursday, October 29 to face the Alief Taylor Lions at 7:00 p.m.