Pearland gets past Alief Taylor 26-7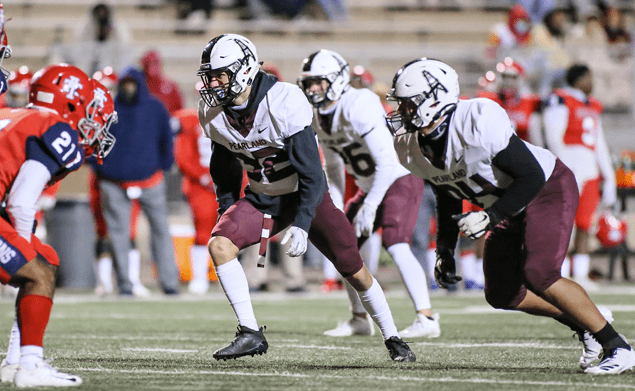 In a rather lackluster first half by Pearland on offense against an athletic Alief Taylor defense, the Oilers could only manage a 6-0 lead in the first 24 minutes of action thanks to the leg of senior placekicker Caleb Mendez who booted field goals of 33 and 37-yards.
The Oilers did get good field position early in the second quarter at the Taylor 12, but opted to go on fourth down with a pass that was incomplete in the corner of the end zone.
Pearland took over on the Lions 16 on their next possession and gained only seven yards so head coach Ricky Tullos opted for Mendez who didn't disappoint with a 37-yard field goal with 6:55 left in the second quarter.
Taylor looked energized to begin the second half and took advantage of a great run covering 79-yards by Tyler King to take a brief 7-6 lead with 7:19 left in the third period.
That seemed to wake up Pearland's struggling offense as junior QB Jake Sock threw three second half touchdowns that broke the game open for the Oilers.
Sock's first scoring toss was set up by an exciting kickoff by Kele Linton, who caught the ball at his own 15 and returned it to the Lions 37 for a 53-yard return.
After a two-yard loss, Sock delivered a perfect pass to Garrett Coiner for Pearland's first touchdown that covered 39-yards. The two-point conversion pass was no good leaving the Oilers with a 12-7 advantage with 6:15 left in the third quarter.
Pearland got good field position after forcing Taylor to punt on their next possession.
The Oilers set up at the Lions 25 following a shanked punt netted only five yards.
Sock took advantage as he hit hit Isaac Sanchez with a perfect 25-yard scoring strike with 4:02 remaining in the third quarter to increase the lead to 19-7 following the PAT by Mendez.
Pearland scored their final touchdown of the game following another Taylor turnover as Linton recovered a fumble he caused at the Lions 16.
Once again, Sock delivered a 16-yard scoring pass to wide-open junior tight end Nathan Elias running down the middle of the field all alone for the catch and run score. Mendez hit the PAT with 9:46 left in the game to post the 26-7 final score.
Linton had an outstanding defensive game as he had five solo tackles, five assisted stops, one interception, one recovered fumble, and a 53-yard kickoff return.
Sock was 8-of-16 passing for 119 yards and three TDs.
Pearland's rushing attack was held to 23 carries for only 58 yards as John Friend had 25 yards, Dominic Serna had 18 yards and Darius Hale had 15 yards.
Sanchez was the leading receiver with four grabs for 65 yards and one score. Coiner had two catches for 36 yards and a TD while Elias had one catch for 16 yards and a touchdown.
The Oilers improve to 5-1 for the season and 3-1 in district. Pearland will host the Alief Hastings Bears on Friday, November 6 at 7:00 p.m. at The Rig.