Pearland looks to have a better season in 2020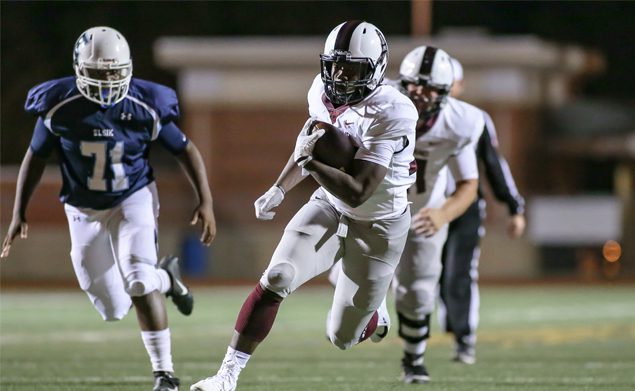 The Pearland Oilers have built a great winning tradition and head coach Ricky Tullos looks to have a better season in 2020 than the Oilers had in 2019.
Tullos begins his third season at the helm of the Oilers and certainly has a winning record. His first team in 2018 went undefeated with a 10-0 regular season mark, but lost to Dickinson in the first round of the playoffs. Pearland won the 23-6A title.
Last season, the Oilers dropped two district games to Dawson and Strake Jesuit to finish 8-2 and third place in the league standings.
Again, Pearland faced Dickinson in the first round of the post-season and lost a hard-fought 28-23 contest to finish with an 8-3 mark.
Tullos believes that the players are buying into his system and looks to have a better season in 2020.
The Oilers are a pre-season pick to finish second in the District 23-6A race behind favorite Shadow Creek who won the Class 5A Div. I state championship in their final year of 5A competition.
The Sharks were placed in 23-6A after the UIL realignment and they will find out what it means to play with the big boys.
Tullos knows how Shadow Creek head coach Brad Butler is feeling as he was moved up to 6A in 2016 after his 2015 George Ranch team won the 5A Div. I state title.
Pearland will have to adjust to some changes due to COVID-19, but all schools have the same adjustments.
There have been some player changes that will change the dynamics of this year's team.
Last year's leading rusher, Torrence Burgess (5-9, 175, 4.5), who had 1.018 yards and 13 TDs will attend Dawson for his final high school season since his family lives in the Dawson zone.
Running back Brandon Campbell, who played for Pearland one season, transferred to Katy and then decided to not play his senior season due to the virus. Campbell has given his commitment to play at Southern Cal at the next level.
But that still doesn't leave the cupboard empty as the Oilers still have three outstanding running backs who should fill in the gap at that position.
Senior Darius Hale and sophomore Kennedy Lewis (5-8, 190, 4.6) are solid backs who can carry the offensive load for Pearland. Hale had 23 carries for 261 yards and four TDs. Dominic Serna had 300 yards on 45 totes and two scores.
Pearland will also have to replace quarterback J.D. Head (Louisiana Tech), but junior signal-caller Jake Sock (6-1, 165, 4.8) should take over that position and build off the experience he got leading the JV team.
Sock will have experienced WR Cedric Mitchell (6-0, 175, 4.6) to throw to plus he will have other receivers. Mitchell had 27 catches for 504 yards and three TDs.
The defensive line is a tough group and they are led by DL Christian Sauter (6-2, 260), DL Amari Deason (6-1, 285), and DL Christopher Salinas. Junior safety Dylan Dixon (6-1, 170, 4.6) and senior S Kele Linton (6-0, 190, 4.6) add experience in the secondary. Linton had 43 tackles, 8 tackles for loss, and 1 INT last season.
The offensive line will have some experience and they will be led by OL Riley Denman and OL Michael Samson.
One edge that Pearland could have over most of their opponents is the strong leg of senior placekicker Caleb Mendez who has proven he can be a lethal weapon when called upon in the game.
Last season, Mendez hit 59-of-61 PATs and hit 4-of-4 field goals for a total of 71 points. He finished as the third leading scorer on the team. He had a season-high 42-yard field goal. Mendez was a second-team All-District pick last year.
Former Pearland placekicker/punter Thomas Morstead, who is now the All-Pro punter and Super Bowl champion with the New Orleans Saints, has taken the time to come to Pearland and work with Mendez.
Robbie Hersh, another former Pearland placekicker, who played at Texas Southern and now coaches at La Marque, has taken Mendez under his wing to also help guide the talented kicker.
Pearland will open the season on Thursday, September 24 at The Rig when they host The Woodlands who has always been an area power. The game begins at 7:00 p.m. This will be a good test for the Oilers to begin the season.