Pearland moves past Alief Hastings 37-16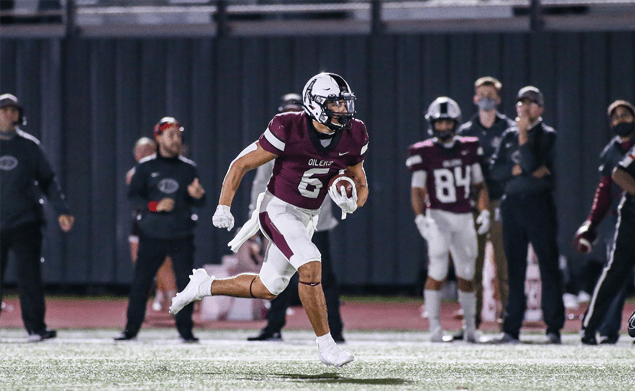 In what was a tight game after the first twelve minutes of play with Pearland leading the Alief Hastings Bears 7-0 thanks to an interception by Malik Williams covering 8-yards for the score with 4:05 left in the period, the Oilers went on a 23-0 scoring spree in the second quarter to take a 30-0 lead at intermission.
Pearland went on to post a 37-16 Homecoming win over the Bears in the District 23-6A contest. The win improves Pearland to 6-1 overall and 4-1 in the league standings.
The Oilers scored again with 11:31 left in the second quarter when junior QB Jake Sock plunged across the goal line on a 1-yard sneak. Caleb Mendez added the PAT and the Oilers were up 14-0.
After Pearland got a safety for a 16-0 lead at the 3:48 mark, Kele Linton stuck the knife in a little deeper by taking the ensuing kickoff 65-yards for the score with 3:37 left in the period for a 23-0 advantage.
As the first half was coming to an end, Pearland got the ball back after the Bears missed a 42-yard field goal attempt with 1:08 showing on the first half clock.
With the ball at the Pearland 25, junior running back Dominic Serna took the ball from Sock, found a hole in the Bears defense, and turned on the jets for a crowd-pleasing 75-yard score and a 30-0 halftime lead following the PAT by Mendez.
The Oilers added a scoring pass from Sock to Garret Coiner covering 8-yards with 1:20 left in the third quarter. Mendez tacked on the final PAT for the Oilers and a 37-7 lead.
Hastings score once in the third period and added a safety, a touchdown, and a two-point conversion in the fourth period after the Oilers had wrapped up the game 37-16.
Sock was 4-of-14 passing for 41 yards and one TD and one interception.
Serna had nine carries for 112 yards and one score while sophomore RB Kennedy Lewis had 15 totes for 54 yards and RB John Friend had nine carries for 54 yards.
William Foster had one catch for 22 yards.
Pearland (6-1) will travel to Freedom Field to face the Shadow Creek Sharks in a District 23-6A showdown on Friday, November 13 at 7:00 p.m.