Pearland moves past Brazoswood 45-0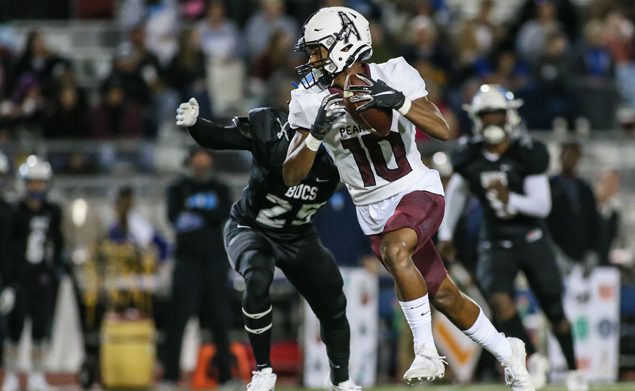 The Pearland Oilers traveled to Clute at Hopper Stadium to face the Brazoswood Buccaneers and did to them what every other team has done to keep them winless for the 2019 football season.
The Oilers returned home with a solid 45-0 win to secure their place in the playoffs for the 20th consecutive year. It was also Pearland's 21st straight winning season dating back to 1999.
There really was no danger for the Oilers in improving to 7-2 overall and 4-2 in district. Pearland will be the No. 2 seed in the upcoming playoffs in the 5A Region III Div. I bracket. Dawson captured the 23-6A crown and will have the No. 1 seed in the same bracket.
The Oilers built a 31-0 lead at halftime as the ground attack took full control of the game.
Brandon Campbell scored the first touchdown on a 14-yard run followed by a Caleb Mendez PAT for a 7-0 lead.
The Pearland defense forced Brazoswood to punt and the Oilers made their second possession count as Campbell got loose on a 38-yard run to make the score 14-0 at the end of the first period.
The offensive onslaught continued as quarterback J.D. Head hit Campbell on a short pass and he turned it into a 28-yard catch and run for another score. Mendez hit the PAT for a 21-0 advantage.
Torrence Burgess got in on the action as he scored on an 11-yard run to increase the Pearland lead to 28-0.
And before intermission, Mendez was called on to nail a 38-yard field goal giving the visitors a comfortable 31-0 halftime lead.
Pearland put the game away in the third quarter with two more scores as Burgess scored his second touchdown in the third on a 5-yard burst across the goal line.
Running back Darius Hale nailed the coffin shut with an 8-yard scoring dash in the third frame. Mendez hit his sixth straight PAT to post the 45-0 final score.
Head was 8-for-11 for 163 yards and one score.
Pearland had 318 total rushing yards led by Burgess who had 95 yards on seven carries and two TDs.
Hale had seven carries for 83 yards and one score while Campbell had four totes for 59 yards and two scores. Gianni Tasiague had four carries for 63 yards.
Eleven different receivers caught a pass for a total of 187 yards and one score.
The Oilers will host their regular season finale on Friday, November 8 at 7:00 p.m. at The Rig when they face the George Ranch Longhorns.