Pearland notches first win for Gotte era 40-14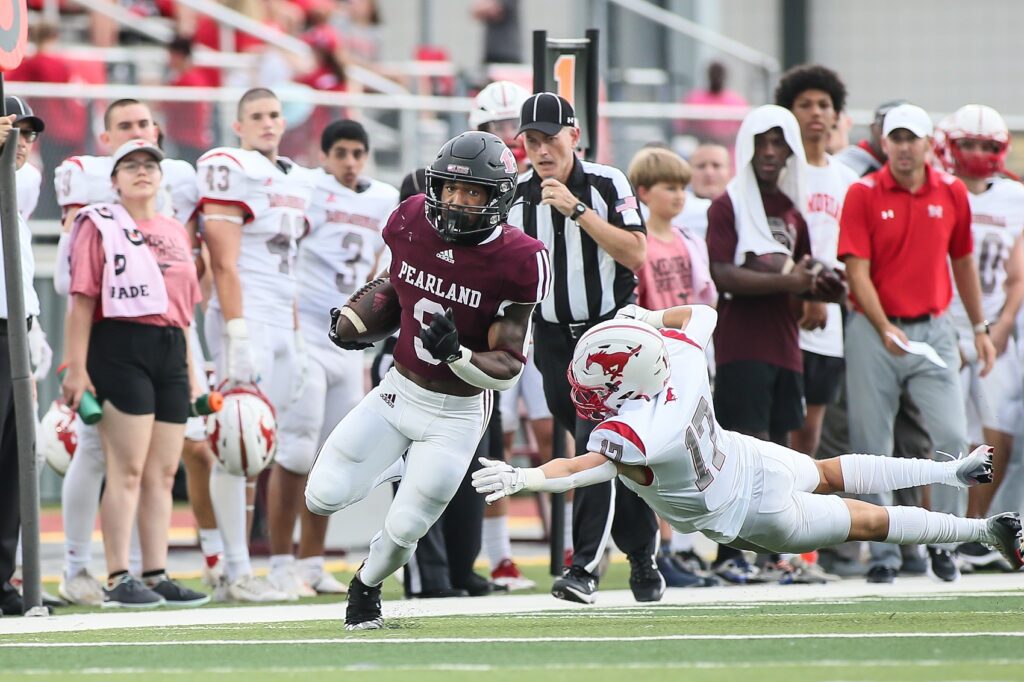 When Pearland opened the season against Clear Falls and came up short 20-17, head coach B.J. Gotte knew his team was good enough to have won the non-district game.
It only took a week for the Oilers to make the necessary adjustments to give Gotte and his coaching staff their first win of the new Pearland era.
"I was pleased to see us make the necessary improvements from week 1 to week 2," Gotte said. "The kids are developing a better feel for their assignments, and we are developing more confidence on the offensive line and defensive front seven."
Memorial got a season-opening 17-13 win over Katy Seven Lakes to begin their 2022 football season.
Pearland and Memorial have played each other 17 times since their first meeting in 2004. The Oilers have won 14 of the 17 meetings while avenging a 17-14 loss to the Mustangs in 2021.
While the Oilers still had a few miscues against the Mustangs, the positives outweighed the negatives as Pearland controlled most of the game to post the 40-14 victory to even their season mark at 1-1.
Pearland forced Memorial to three-plays and out on their first possession of the game.
The Oilers set up their opening drive at their own 39. The offense drove to the Memorial 14 in seven plays before settling for a 31-yard field goal by junior Jackson Stagg at the 8:30 mark of the first quarter for a 3-0 lead.
Memorial answered with an 11-play, 60-yard drive of their own, but it stalled to force a 37-yard field goal attempt which sailed left leaving the Oilers with a 3-0 lead.
Beginning at their own 20 for their second possession of the game, the Oilers offense sustained an 11-play, 80-yard scoring drive capped off by a 1-yard plunge by sophomore quarterback Jackson Hamilton with 10:38 left in the second period. The PAT missed left leaving the Oilers with a 9-0 advantage.
Late in the second period, Pearland scored again as Hamilton threw a beautiful fade rout in the corner of the end zone to Patrick Bridges for a 7-yard scoring toss. The PAT by Stagg was good and Pearland had 16-0 lead with 2:11 remaining in the first half.
The score was set up by the defense as junior Lazarus Stagg intercepted a Memorial pass at the Mustang 19-yard line and returned the ball to the 8-yard line.
However, Memorial wasn't going to go away as they scored with less than a minute in the second quarter on a Jackson Salters to Ethan Spears to complete an 18-yard scoring strike to cut the lead at intermission to 16-7.
The Oilers fumbled on their first possession of the second half that was recovered by Memorial at the Oiler 32, but Pearland's defense held the Mustangs on fourth down as they sacked the quarterback for a 15-yard loss to get the ball back at the Oiler 42.
After an 8-play, 51-yard drive stalled at the Mustangs 1, Stagg booted a 23-yard field goal for a 19-7 lead with 6:20 remaining in the third quarter.
"It was good to see we didn't let the plays Memorial made on offensive right before half, and our turnover to start the third quarter impact the way we executed the rest of the second half."
With 3:03 left in the third, Memorial found the end zone on a 36-yard scoring pass to cut the lead to 19-14.
Pearland quickly answered with a two-yard touchdown by sophomore LaDamion McDowell which was set up by a long pass from Hamilton to Gabe Ortiz covering 45 yards to the Memorial 2. Stagg hit the PAT and Pearland had a 26-14 lead.
The Oilers scored two more times to put the game out of reach as Kennedy Lewis scored on a 35-yard scamper with 11:52 left in the fourth quarter and Hamilton hit WR Christian Pitts for a 27-yard scoring pass to post the 40-14 final score.
Hamilton was 7-for-11 passing for 140 yards and a pair of touchdowns. He also had four carries for 47 yards and a TD.
Lewis had 92 yards rushing on 12 carries and a score while McDowell had 14 totes for 52 yards and one TD.
Bridges had four catches for 56 yards and a TD, Pitts had two grabs for 47 yards and a score, and Ortiz had one catch for 45 yards and a TD.
Defensively, Andre Duke led the way with five solo tackles and two assisted stops while getting help from Zander Winter (2 solo, 2 assisted, 3 sacks), Ashton Hampton (6 solo tackles), Cole Anderson (2 solo stops, 4 assisted), Gabriel Sheppard (5 solo), and Kyle Wallace (4 solo, 1 assisted).
Pearland will travel to face the C.E. King Panthers on Friday, September 9 at 7:00 p.m. at Sheldon ISD Stadium.
"We will need to continue to improve this week versus a very physical and athletic CE King team," Gotte said.
FINDING DAYLIGHT – Pearland senior running back Kennedy Lewis (9) avoids a Memorial defender as he straddles the sideline. Lewis finished the night with 12 carries for 95 yards, including a 35-yard touchdown run on the way to the Oiler 40-14 victory. The Oilers face a tough challenge on the road against C.E. King on Friday, September 9 at 7 p.m. at Sheldon ISD Stadium. [Photo by Lloyd Hendricks]