Pearland rips Alvin 56-14 in district contest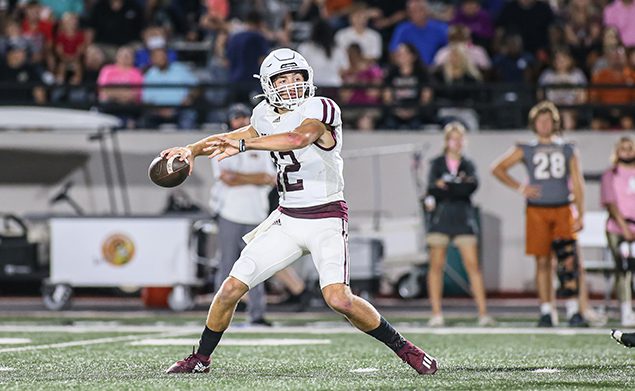 The past two games, the Pearland Oilers have shown marked improvement from the first three games where they started 1-2 for the 2021 football campaign.
The Oilers have made an opening statement in District 23-6A competition with a 41-20 win over Strake Jesuit and a 56-14 thrashing of Alvin to improve to 3-2 overall and 2-0 in the league standings.
While Alvin entered the game with a 3-1 record, the Yellowjackets were clearly overmatched by the Oilers. The last time an Alvin team beat Pearland was in 1995 by the score of 17-14. Since then, Pearland has dominated the Jackets.
The Oilers wasted little time in opening up a lead against Alvin that would lead to the lopsided district win.
Quarterback Jake Sock led the Oilers to an opening drive score as he tossed a 30-yard scoring strike to wide receiver Izeal Jones for a quick 7-0 lead.
The Oilers took a 14-0 lead on a 10-yard run by senior running back Dominic Serna in the first quarter.
With less than four minutes left in the first period, Alvin got on the scoreboard on a 60-yard scoring run to close the gap to 14-7, but Pearland would quickly respond with a Sock to Jones scoring toss to make the score 21-7 at the end of the first stanza.
Pearland would increase the lead to 28-7 early in the second quarter as Sock would hook up with Jones for a third time on a 35-yard scoring pass.
Once again, Alvin would try to keep the game close as they scored on a 35-yard run to cut the lead to 28-14.
But the Oilers would strike again just before intermission as Serna score his second touchdown on a 25-yard touchdown and a 35-14 lead following Jackson Stagg's fifth PAT of the first half.
That would be all the scoring for Alvin as the Oilers added three more touchdowns in the second half.
Freshman QB Jackson Hamilton (3-of-6 passing, 77-yards, 1 TD) would throw a touchdown pass covering 28-yards to Aiden Glasper to make the score 42-14.
Serna would add his third touchdown on the ground to make the score 49-14 before Denzel Lartey would put the final touches on a 16-yard scoring run for a 56-14 final score.
Sock was 7-of-10 passing for 166 yards and and three TDs.
Serna led the ground attack with 11 carries for 137 yards and three scores. Kennedy Lewis had six totes for 59 yards.
Jones had three catches for 116 yards and three TDs. Christian Pitts had two grabs for 39 yards while Isaac Sanchez had three receptions for 38 yards. Patrick Bridges had one catch for 24 yards and Glasoer had one grab for 28 yards and a TD.
Defensively, Ryan Jenkins had six solo tackles and on assisted stop while Tyran Sweat had two solo stops and six assisted tackles and Malik Williams had three solo tackles and four assisted stops. Dylan Dixson also had two solo tackles and five assisted stops. K'Von Sherman recovered a fumble.
Pearland will host Alief Elsik (1-4, 0-2) on Friday, October 8 at 7:00 p.m. at The Rig.