Pearland rolls over Alief Elsik 52-0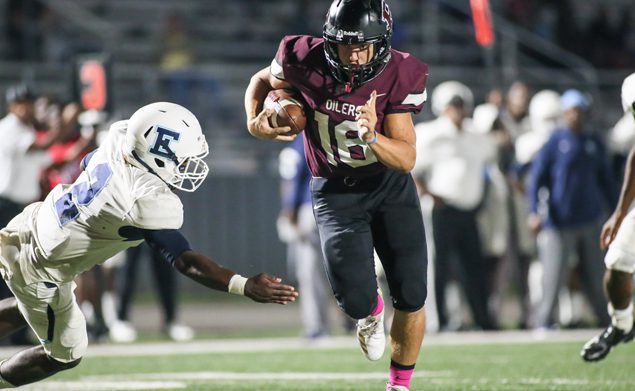 The No. 6 area-ranked Pearland Oilers celebrated Homecoming with a lopsided 52-0 district win over hapless Alief Elsik to remain perfect on the season at 6-0 overall and 3-0 in league action.
The Oilers have struggled at home this season in their first two games while playing well on the road, so this game was a minor test of seizing the home field advantage and posting a strong win before the home crowd which they did.
The momentum of this big win against Elsik should go well for their upcoming district showdown with undefeated Strake Jesuit (6-0, 3-0) who took out Alief Hastings. The winner of this contest will be in the driver's seat for the league crown. The two teams will meet at Clay Stadium on Friday, October 19 at 7:00 p.m.
The Oilers wasted little time in setting the tone against Elsik as they scored on their second possession when Jaden Piece caught a 3-yard pass from quarterback J.D. Head for a 7-0 lead after a PAT by Caleb Mendez at the 8:12 mark of the first quarter to complete an 10-play, 81-yard scoring drive.
The Pearland defense forced a three-and-out against Elsik to start their next possession on the Rams 29 following a shanked punt.
Three plays later, Pearland was back in the end zone when Head threw a laser to Piece covering 29-yards for the second score by the wide receiver giving the Oilers a 13-0 lead following the wide right PAT with 6:31 left in the opening quarter.
Elsik failed to get a first down on the next possession forcing a punt back to the Oilers who took only four-plays to complete a 62-yard scoring drive capped by a 41-yard scoring bomb from Head to Malcom Linton who had slipped behind the defensive secondary. The two-point conversion was no good as the Oilers had a 20-0 lead at the end of the first period.
Pearland added 18 more points in the second quarter when Jaelin Benefield scored on a 1-yard plunge; Piece caught his third scoring pass from Head covering 18-yards; and Tanner Tullos grabbed a 4-yard scoring toss from backup quarterback Layne Roblyer just before intermission giving the Oilers a lopsided 38-0 halftime advantage.
Pearland head coach Ricky Tullos pulled his starters in the second half as the Oilers scored once in the third on a 20-yard run by Landon Bradley and Jonathan Alaniz scored on a 2-yard run with 1:58 left in the game giving Pearland the 52-0 district win as Chase Huhn hit both PATs.
The Oilers defense was spectacular as they held Elsik to only 111 total yards including 11-of-23 passing for 52 yards and only four first downs.
Pearland's offense rolled up 614 total yards with 360 yards on the ground, 254 passing yards, and 28 first downs.
Junior quarterback J.D. Head only played the first half and finished with 9-of-17 passing for 157 yards and 4 TDs and one interception.
Jaelin Benefield had 12 carries for 139 yards and one score. Bradley had six totes for 102 yards and one score. Torrence Burgess had 55 yards on seven carries.
Linton had three catches for 69 yards and one TD while Austin Landry had two grabs for 69 yards. Piece had four receptions for 53 scores and three TDs.