Pearland rolls past SB Memorial 28-7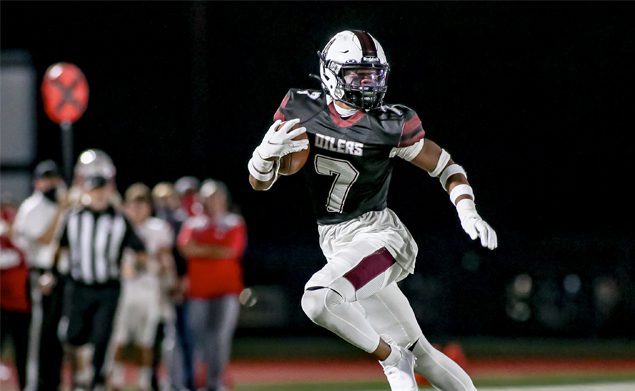 It took longer than head coach Ricky Tullos wanted, but the Pearland Oilers used a strong second half to get a 28-7 win over Spring Branch Memorial 28-7.
The first half was lackluster for both teams as they had trouble moving or catching the ball. With only :09 seconds left in the opening half, Pearland finally found paydirt on a 3-yard scoring toss from QB Jack Sock to WR William Foster. Caleb Mendez hit the PAT giving the Oilers a 7-0 lead at halftime.
But the second half was much better for the Oilers and the defense, for the second straight week, sparked the team to add points on the scoreboard while limiting the Mustangs to one score late in the game.
Memorial got the second half kickoff and appeared to be putting together an offensive drive. On second-and-12, junior defensive back Dylan Dixon speared an errant pass and took it back 60-yards for a touchdown with 8:14 left in the third period giving the Oilers a 14-0 lead.
Pearland forced Memorial to punt on their next possession.
The Oiler offense went on a quick six-play, 54-yard drive for another score as Sock scored on a 1-yard sneak. Mendez was true on the PAT giving the Oilers a 21-0 advantage with 3:49 left in the third period.
Pearland's fourth score was set up by another interception by junior DB Izeal Jones.
Senior RB Darius Hale scored on an 8-yard sweep to increase the lead to 28-0 following the PAT by Mendez.
Pearland now has five interceptions in the first two games this season.
Memorial finally found the end zone with 4:28 left in the game, but it was too little, too late as the Oilers posted the 28-7 non-district win.
Sock was 5-of-11 passing for 39 yards and one TD.
Hale had 18 carries for 108 yards and one score while Braeden Carr had eight totes for 51 yards.
Issac Sanchez had two grabs for 24 yards and Foster had two catches for 18 yards and one TD.
The Oilers (2-0) will open up District 23-6A action on Friday, October 9 at 7:00 p.m. when they face the Strake Jesuit Crusaders (0-1) at the Crusader Stadium.