Pearland romps past Alvin 48-9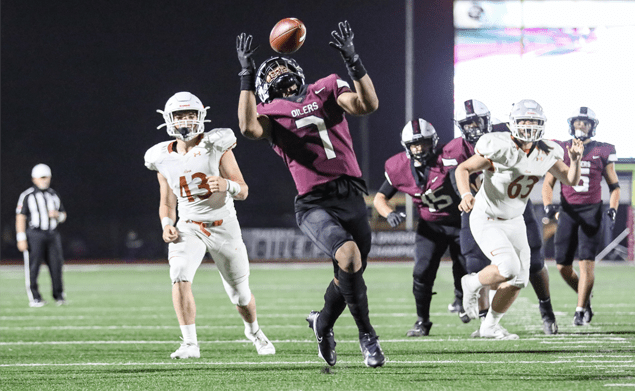 The game between Pearland and Alvin got ugly from the beginning as the Oilers scored three times with only 6:12 gone in the first quarter for a quick 21-0 lead.
Alvin was forced to punt after their first three plays netted -1 yard to their own 24. Their punt on fourth down travel only seven yards giving Pearland the ball at the Alvin 31.
Junior running back Dominic Serna picked up 26 yards on his first carry and then finished the short drive with a 5-yard scoring run. Caleb Mendez hit the PAT for a 7-0 lead with 9:15 left in the first quarter.
Mendez kicked off to an Alvin receiver who touched the ball in play, let the ball go in to the end zone, and the Oilers recovered the live ball for a score and a 14-0 lead with 9:15 still left in the first quarter.
After another three-and-out and a punt that gained no yards, the Oilers set up at the Alvin 24 and two plays later scored on a Jake Sock touchdown pass to Dylan Dixson for a 21-0 lead following the PAT by Mendez with 6:52 left in the opening period.
Pearland would score two more times in the first quarter on an 8-yard run by Darius Hale and a 2-yard plunge by Serna to increase the lead to 35-0 at the end of the first quarter.
The Oilers would add one more score in the first half on an 18-yard scoring pass from senior QB Asa Higginbotham to junior WR Garrett Coiner to make the halftime score 41-0.
The second half saw Alvin finally get on the scoreboard with a safety and a touchdown while the Oilers scored one touchdown making the final score 48-9.
Pearland had already clinch a spot in the playoffs and will face the Clear Springs Chargers in the first round at Challenger Stadium. A date and time hasn't been determined. The Oilers will be in the Class 6A Region III Div. I bracket.