Pearland routs Alief Elsik 61-0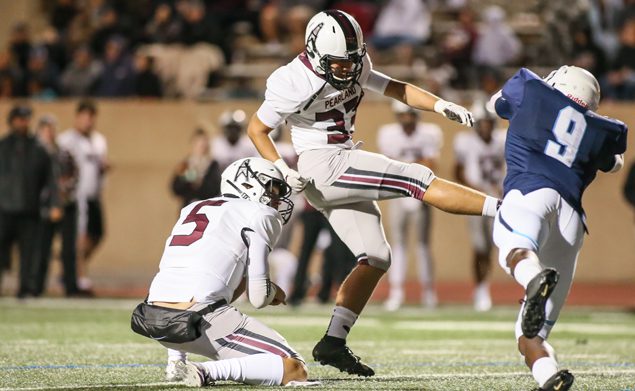 The Pearland Oilers regrouped after their 40-29 loss to cross-town cousin Dawson in the annual PearBowl with a 61-0 thumping of the Alief Elsik Rams to improve their season record to 5-1 and 3-1 in district.
The game was never in doubt as the Oilers totally dominated the hapless Rams.
The only thing that was different was the Pearland ground attack was the featured offensive weapon as the Oilers displayed their three-headed running back corps in Torrence Burgess, Brandon Campbell and new transfer Darius Hale.
While Burgess and Hale were the primary ball carriers who both got into the end zone, Campbell scored as a receiver to lead the Oilers to the lopsided win.
The Oilers scored 21 points in the opening period as Burgess scored on an 8-yard run with 6:15 left for a 7-0 lead following the PAT by Caleb Mendez.
Mendez was perfect on the night hitting 8-for-8 extra points plus he added a 25-yard field goal in the fourth quarter giving him 11 points on the night.
Hale scored the second touchdown for the Oilers on a 22-yard reception from quarterback J.D. Head and a 14-0 lead with 4:25 left in the opening stanza.
Head hit Campbell on a 42-yard scoring strike with 1:40 left in the first frame giving Pearland a commanding 21-0 advantage.
Pearland continued the onslaught in the second quarter by adding 28 more points to make the score 49-0 at intermission.
Burgess scored on a 1-yard run; Tanner Tullos caught a 25-yard scoring pass from backup QB Layne Roblyer; Hale scored on a 51-yard jaunt; and Ben Wilson closed out the first half scoring parade with a an interception that he returned 45-yards for a score.
The Oilers scored two points in the third on a safety making the score 51-0 and then they added 10 points in the fourth frame on the Mendez field goal and a 5-yard run by Dominic Sema to post the 61-0 final score.
Pearland rushed the ball 57 times for a season-high 423 yards with Burgess leading the pack with 18 carries for 148 yards and two scores. Sema had 17 totes for 79 yards and one TD. Hale had three carries for 75 yards and two touchdowns. Gianni Taisague had 12 carries for 66 yards.
Head was 1-for-4 passing for 42-yards and one score.
Campbell had one catch for 42 yards and a TD while Tullos had 1 grab for 25 yards and a score.
The Oilers (5-1, 2-1) will host the Strake Jesuit Crusaders (4-2, 2-1) on Friday, October 18 at 7:00 p.m. at The Rig in another critical district showdown.