Pearland routs Cinco Ranch 45-0 to remain undefeated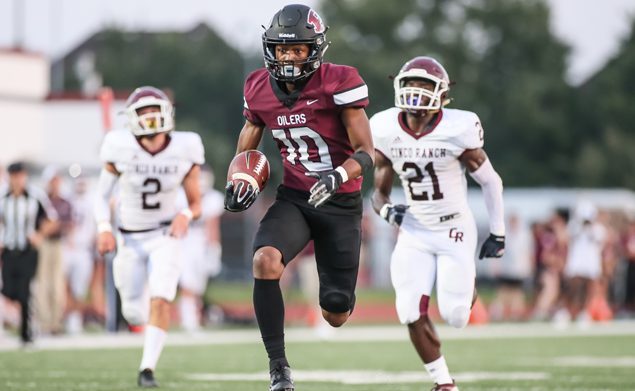 Prior to kickoff against Cinco Ranch, Pearland head coach Ricky Tullos was presented with a framed Proclamation from Pearland ISD Superintendent Dr. John Kelly on behalf of Pearland Mayor Tom Reid naming Friday, September 13, 2019 as "Ricky Tullos Day."
Then, Tullos received a framed Pearland jersey with No. 100 on it to commemorate his 100th career win a week earlier when the Oilers defeated Spring Branch Memorial 49-23.
The Oilers then proceeded to rack up career win No. 101 with a 45-0 rout over the Cinco Ranch Cougars to close out non-district action with a 3-0 mark.
Tullos now has a career mark of 101-28 and counting that includes a 2015 Class 5A Div. I state championship when he was at Richmond George Ranch.
The Oilers beat Cinco Ranch convincingly last season 56-24 and they did so again this year 45-0.
Pearland racked up 24 first downs, 190 yards rushing, and 412 yards passing for 502 total yards while the Oilers defense held the Cougars to only 111 yards including only four yards passing (2-for-12).
The Oilers dominated the game from the very beginning recovering a Cinco Ranch fumble early in the first quarter by Brenden Stokes.
Brandon Campbell scored on a 3-yard run and Caleb Mendez tacked on the PAT for a 7-0 lead with 8:10 left in the first period.
Pearland next possession resulted in a short 3-play, 59-yard scoring drive capped off with a 53-yard scoring pass to Cedric Mitchell who split the Cinco Ranch defense to haul in a pass from QB J.D. Head. Mendez booted the PAT for a 14-0 lead with 5:59 remaining in the opening quarter.
The next drive for the Oilers stalled at the Cougars 12 so Mendez was called on to boot a 29-yard field goal with 1:24 left in the first giving Pearland a 17-0 advantage.
Pearland built a 24-point cushion early in the second quarter after forcing Cinco Ranch to punt for the fourth straight time.
This time is was an 8-yard scoring toss to Jaden Piece from Head. Piece caught the short pass, dropped his defender with a shake and bake fake, and then strolled into the pay station at the 11:01 mark of the second quarter. Mendez hit the PAT for a 24-0 lead.
With 2:55 left before intermission, the Oilers struck oil again when Jeremiah Aaron zipped past the Cougars secondary, caught the on-target pass from Head, and then raced 78-yards for the score. Mendez was perfect with the PAT giving the Oilers a 31-0 lead at halftime.
Pearland added two scores with the reserves in the second half as Torrance Burgess scored on a 3-yard run and Dominic Serna added an 8-yard scoring scamper with Mendez hitting the PAT to post the final 45-0. Mendez had 6-of-6 PATs plus a field goal.
Head was 19-of-34 passing for 320 yards and three touchdowns.
Campbell had five carries for 73 yards and one TD.
Aaron had seven catches for 132 yards and one score while Mitchell had five grabs for 116 yards and one TD.
"We did a lot of good things," Pearland head coach Ricky Tullos said, "but there were some times we played inconsistent.
"We'd get rolling and then we'd make a mistake and not execute. Those are things that happen early in the season, and you have to eliminate those to execute at a high level."