Pearland runs over George Ranch 49-7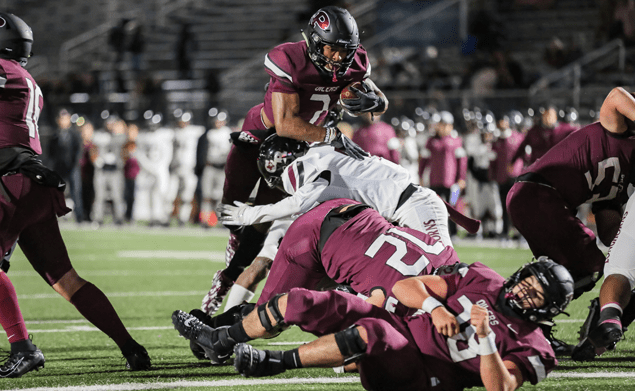 For the 20th straight year — the Pearland Oilers advanced to the playoffs after running over George Ranch 49-7 in a District 23-6A contest.
Both teams had already punched their ticket to the post-season so there was no mystery as to who would be extending their season. It was just a matter of keeping the momentum going for the team finalizing the regular season.
Pearland now has an 8-2 overall record and 5-2 in district action while George Ranch finishes 4-6 overall and 4-3 in league play.
Brandon Campbell was unstoppable as he rushed for 80 yards on 13 carries while scoring on runs of 1, 2, 1, and 37-yards.
The Oilers were also just effective through the air as quarterback J.D. Head was 14-of-21 passing for 234 yards and two scores.
His favorite target was junior wide receiver Cedric Mitchell who snagged five passes for 132 yards including scoring passes of 39 and 31 yards.
"The last three weeks we've really started to jell," Tullos said. "You want to peak at the right time going into the playoffs.
"We're about as healthy as we've been all year. I'm extremely proud of the effort tonight. We came out and got momentum early, put the pedal down and stayed on it."
Pearland led 14-7 in the first quarter on touchdowns by Campbell and Mitchell while George Ranch scored their only touchdown in the quarter on a long 54-yard pass from Sam Miller to Carlos Villagomez.
The Oilers would add three more scores in the second period by Mitchell, Campbell, and a 22-yard run by Torrence Burgess to make the score 35-7 at intermission.
Pearland added a pair of Campbell scores in the third quarter to make the final score 49-7 as the reserves took over in the final period.
Placekicker Caleb Mendez was 7-for-7 in extra points.
The Oilers advance to the post-season to face the Dickinson Gators on Friday, November 15 at Sam Vitanza Stadium. at 7:00 p.m. in the bi-district round of the Class 6A Region III Div. I playoffs.
Pearland lost to the Gators in 2014, 2015, and most recently in 2018 when they fell to Dickinson 49-21 after going 10-0 during the regular season.
"We understand they're a very good football team, and we've got a big challenge ahead of us," Tullos said. "We've got our work cut out for us, so we have to be ready to go at it on practice, and then go over there on Friday and try to play as well as we can."