Pearland survives Dawson 25-23 for Bayway PearBowl title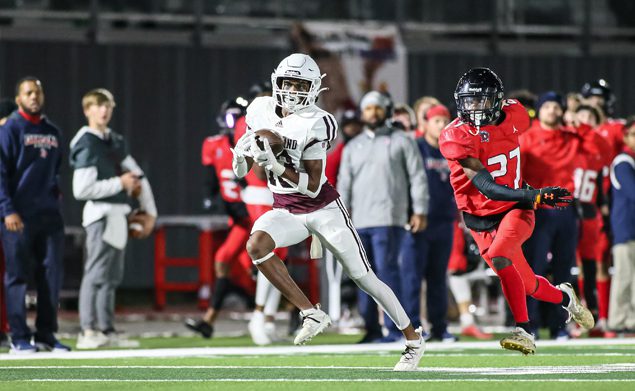 It has been an odd year in 2021 so Pearland decided to get even.
Dawson entered the 8th Annual Bayway Chevrolet PearBowl with a 4-3 edge in the series, but Pearland evened the series 4-4 with their 25-23 win over the Eagles.
Dawson jumped out to an early 3-0 first quarter lead after their opening drive stalled at the Pearland 16. All-State placekicker Carter Brown promptly drilled a 33-yard field goal with 6:23 left in the opening period.
After Pearland went three-and-out, Dawson began their second possession at the 43. The five-play, 57-yard drive was capped off with a 25-yard scoring strike from quarterback Colin Johnson to WR Ryan Guillo for a touchdown and a 10-0 lead with 3:39 left in the first period.
The Oilers finally on a 10-play, 57-yard drive that resulted in a blocked field goal attempt with 1;07 remaining in the opening stanza.
After the Pearland defense forced a Dawson punt, the Oilers struck pay dirt when QB Jake Sock hit Aiden Glasper on a sensational 63-yard scoring pass. The PAT missed the mark and Dawson held a 10-6 lead with 8:10 left in the second quarter.
The Eagles took the ensuing kickoff to the Pearland 31 yard line before the 12-play drive stalled. Brown got the nod once again and kicked an impressive 48-yard field goal for a 13-6 lead with 2:35 left before halftime.
In a hurry-up offense, Pearland quickly used 9-play, 57-yard scoring drive as Sock hit Christian Pitts on a 9-yard scoring pass with 25 seconds left before intermission. The 2-point conversion pass was incomplete and the Eagles had a 13-12 halftime lead.
Dawson had to punt on their first possession of the second half, but Brown hit a 63-yard punt to put the Oilers at their own nine-yard line.
Pearland went on a 8-play, 91-yard scoring march that culminated when Sock hit WR Izeal Jones on a 32-yard scoring pass to give the Oilers their first lead of the game 18-13 following a failed 2-point conversion attempt.
The Eagles tried to counter on their next possession, but the 10-play, 60-yard drive stalled at the Pearland 10. Brown stepped up to boot a 27-yard field goal to close the gap to 18-16 with 2:37 left in the third quarter.
After Pearland had to punt on their next possession, Dawson began their next drive at their own 33. The Eagles drove to the Pearland 13, but were forced to settle for a 30-yard field goal attempt to take a 19-18 lead, but the ball sailed to the left of the goal post leaving the Eagles still trailing with 10:15 left in the fourth quarter.
It took Pearland three plays to extend the lead as Sock hit Glasper with a short pass and run that resulted in a 78-yard touchdown. Jackson Stagg hit the PAT and the Oilers had a 25-16 lead with 9:02 left in the game.
Dawson would score late in the game with 1:19 left on a 2-yard run by Johnson. Brown added the PAT to close the gap to 25-23.
The ensuing onside kickoff by Dawson was recovered by Pearland who ran out the clock to get the district win.
For Dawson, Johnson was 20-of-34 passing for 242 yards and one TD.
Bryce Burgess had 18 carries for 86 yards.
Ashton Stroman had 12 catches for 124 yards while Ryan Guillo had four grabs for 112 yards and one TD.
For Pearland, Sock was 11-of-17 for 251 yards and four touchdowns.
Kennedy Lewis had 18 carries for 54 yards.
Glasper had two catches for 141 yards and two TDs while Jones had four grabs for 69 yards and one score.
Dawson (7-3) will face Clear Falls (9-1) in the Class 6A Region III Div. II bi-district playoff game on Friday, November 12 at Challenger Stadium in League City at 7:00 p.m.
Pearland (7-3) will host Clear Springs (6-4) in the Class 6A Region III Div. I bi-district playoff game on Friday, November 12 at The Rig at 7:00 p.m.