Pearland takes out Alief Elsik 42-6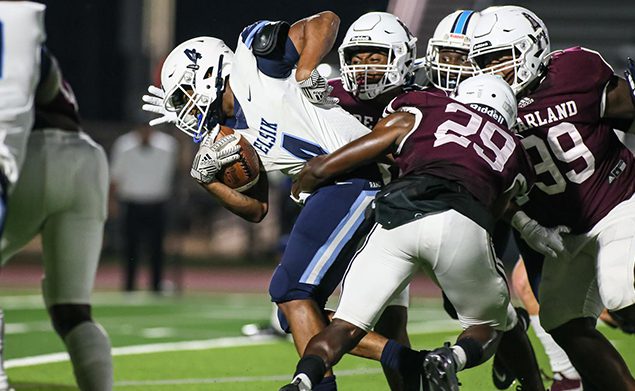 Taking advantage of a strong passing and running game, plus an outstanding defensive effort, Pearland easily beat the Elsik Rams 42-6 to improve to 3-0 in the District 23-6A standings.
It took only a minute for the Oilers to score on their opening possession as quarterback Jake Sock hit Izeal Jones on a 57-yard scoring bomb to give Pearland a quick 7-0 lead following the PAT by Jackson Stagg at the 11:00 mark.
Elsik managed to drive the ball from their own 26 to the Pearland 32 before turning the ball over to the Oilers.
It took Pearland only four plays to find paydirt as Sock hit Patrick Bridges for a 32-yard scoring strike to increase the lead to 14-0 with 5:41 left in the opening quarter.
The Pearland defense forced a three-and-out to give the ball back to the offense at the Pearland 46.
On the second play, junior running back Kennedy Lewis got excellent blocking by the offensive line and the speedster took the ball to the house on a sensational 46-yard scoring jaunt to give the Oilers a 21-0 lead with 3:57 left in the first period.
After Pearland held Elsik to a three-and-out again, the Oilers got the ball back at their own 14 with 2:14 left in the first quarter.
The Oilers went on a nine-play, 86-yard scoring drive capped off with a 10-yard touchdown run by Dominic Serna with 11:11 left in the second quarter making the score 28-0.
With 7:34 left in the second period, Serna would score again as the Oilers got the ball on the Elsik 19. Serna scooted in the Rams end zone on a 5-yard run to increase the lead to 35-0.
Elsik finally got on the scoreboard with 1:27 left before intermission making the score 28-6.
Pearland was forced to punt after the ensuing kickoff, but Elsik fumbled the return and Pearland's Dylan Dixon picked up the ball and returned it 39-yards for a touchdown with :05 seconds left in the first half to make the score 42-6.
Neither team would score in the second half as Pearland emptied their bench while settling for the 42-6 final score.
The Oilers are now 4-2 on the season and 3-0 in district.
Sock was 5-for-7 passing for 114 yards and two TDs.
Serna had 11 carries for 83 yards and a pair of scores. Kennedy had two totes for 45 yards and one TD/Izeal had one catch for 57 yards and one TD while Patrick had two grabs for 41 yards and a score.
Pearland will host Alief Taylor at The Rig on Friday, October 15 at 7:00 p.m.