Tullos notches career win No. 100 in Oilers' 49-23 win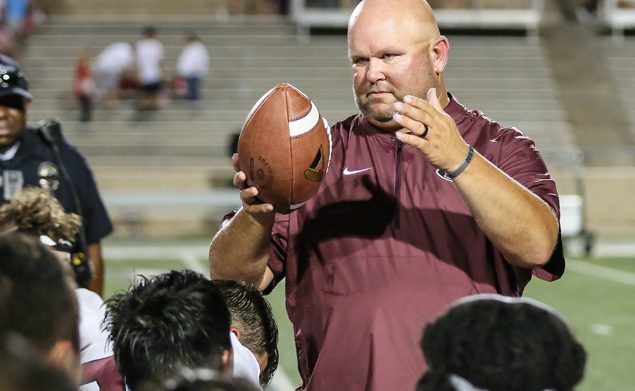 Pearland head football coach Ricky Tullos entered the 2019 football season with a 98-28 career mark while needing only two wins to reach the monumental 100 mark. Tullos, who served as the head coach of Cleveland and George Ranch High Schools before arriving in Pearland, has found success wherever he has coached including a 2015 Class 5A Div. I state title with George Ranch.
The Oilers were 10-1 his first season at the helm of the team including 10-0 for the 2018 regular season.
Pearland has begun the 2019 campaign with a 2-0 record with wins over Cy-Springs (52-3) and Spring Branch Memorial (49-23).
The Oilers will host the Katy Cinco Ranch Cougars on Friday, September 13 at The Rig at 7:00 p.m. Pearland beat the Cougars last year 56-28.
There was never any doubt as to whether the Oilers were going to present Tullos with his 100th win when the game began against Spring Branch Memorial.
Pearland began the game on their own 25 and methodically marched down the field with razor precision to score for a 7-0 lead with 10:08 left in the first quarter.
Quarterback J.D. Head engineered the six-play, 75-yard scoring drive to perfection capped off with a 2-yard scoring toss to Jeremiah Aaron. Caleb Mendez booted the PAT to set the tone for the game.
After Pearland's defense forced a Memorial punt on their first possession, Head and Co. set up shop at their own 22 yard line.
This time — it took only four plays for the Oilers to strike Oil as Head found a wide-open Jaden Piece for a 33-yard scoring strike with 5:12 left in the opening period. Mendez was true to the mark for a 14-0 lead.
Head was 3-for-3 passing for 51 yards in the drive while junior running back Brandon Campbell had two carries for 18 yards.
Once again, Memorial went three-and-out forcing another punt.
It took only two plays for the Oilers to find pay dirt as Head lofted a perfect pass to a streaking Jeremiah Aaron to complete a 77-yard scoring bomb. Another Mendez PAT increased the margin to 21-0 with 3:14 still left in the opening stanza.
Memorial finally found some momentum on offense as they scored with 9:04 left in the second quarter to cut the margin to 21-7.
The final five minutes of the first half turned into a nightmare for Memorial as the Oilers scored three times within that time period for a lopsided 42-7 lead at intermission.
Pearland scored on a 10-play, 50-yard drive capped off by an 11-yard run by Torrence Burgess and a Mendez PAT for a 28-7 lead with 1:26 left before halftime.
The Oilers scored again eight seconds later when Anton Simieou picked off a Memorial pass for a 15-yard scoring romp to bump the lead to 35-7 with 1:18 showing on the clock.
Memorial fumbled on their first play following the ensuing kickoff which was recovered by Kelekolio Linton at the Mustangs 11-yard line.
It took only one play for Campbell to burst through a big hole by the Pearland offensive line for the touchdown with :59 seconds left before the half giving the Oilers a 42-7 lead.
Pearland scored on their first possession of the second half to drive the score to 49-7 as Tullos began to utilize some backup talented runners.
Starting on their own 49, it took only six-plays for the Oilers to find the pay station as senior running back Gianni Taisaque scored on an 3-yard run with 8:03 left in the third quarter. Sophomore running back Dominic Serna had two carries in the drive for 18 yards and Taisaque did the rest on four totes for 33-yards. Mendez hit his seventh PAT in a row for the 49-7 lead and that would be the end of the scoring for the Oilers as the reserves took over the rest of the way.
Memorial managed to score 16 points to close the gap to 49-23, but the game was long over in the middle of the third quarter.
Head finished the game 14-of-16 passing for 213 yards and three touchdowns.
Burgess had six carries for 70 yards and one score. Campbell had six totes for 50 yards and one TD. Serna had nine carries for 55 yards while Taisague had seven carries for 52 yards and one score.
Aaron had five grabs for 115 yards and two TDs while Piece had three catches for 48 yards and a score with Cedric Mitchell having three receptions for 49 yards.
Pearland finished with 514 total yards of offense while Memorial managed 276 total yards with only 73 in the first half.
The Oilers will host Cinco Ranch on Friday, September 13 at 7:00 p.m. at The Rig. It will be Senior Night.